Lake Charles Goes to the Dogs!
More and more people these days are recreating the family dynamic by adopting dogs, and dog-friendly activities are high on the priority list for families looking to settle down in a city. If you've ever talked to me for more than ten seconds, you know my dogs are my life. My Instagram feed is annoyingly teeming with photos of my two dogs Piper and Banquo, and I talk about them as if they are my kids – complete with a few eye rolls from friends with actual children. Lake Charles has plenty of pet-friendly places to bring the puppers, and since we're looking at 75 degree December weather, there's no better time to let the dogs out (see what I did there?)!
Places to Chill: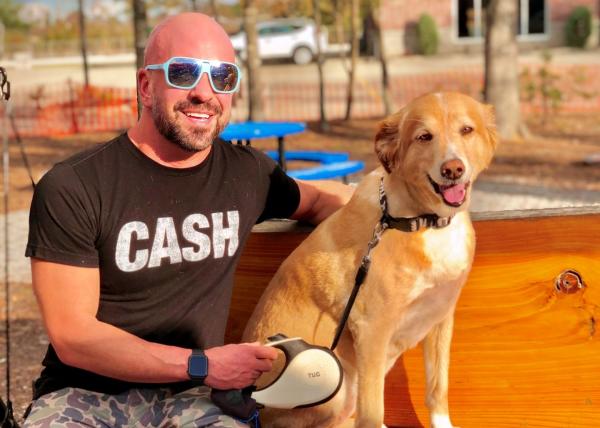 Crying Eagle Brewing
Crying Eagle Brewing (1165 W. McNeese St.) has stepped up its outdoor game with new patio seating, swings, and casual relaxation corners, and all of it is dog-friendly! Your doggo will enjoy people watching while you sip on a local craft brew (try their new Home for the Holidays fruity beer!). The pup-friendly atmosphere is ideal for those lazy afternoons after walkies.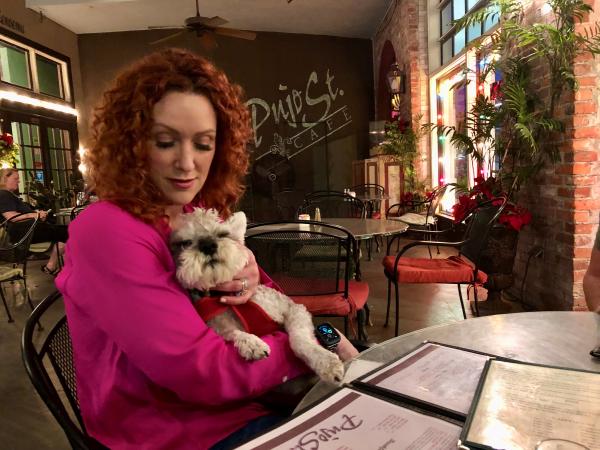 Pujo Street Cafe
Pujo Street Café (901 Ryan St.) boasts one of the best outdoor patios downtown, and they welcome dog owners and their furbabies to hang out while you nibble on their famous spinach and artichoke dip.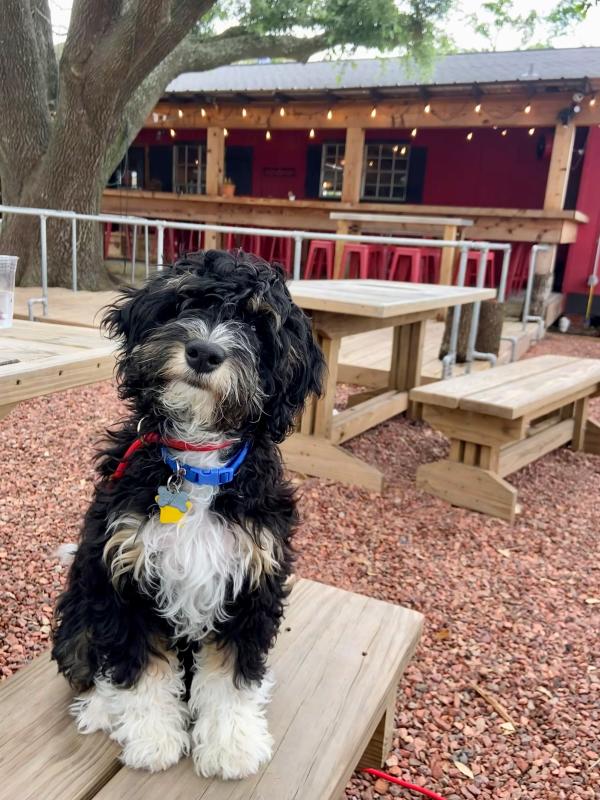 Paul's Rib Shack - benny.andthejets.porche
It's hard to mention dog-friendly places without mentioning Rikenjak's (3716 Ryan St.), which offers some of the best dog-friendly events around, including photos with Santa! Other places like Botsky's (104 W. Pujo St.), Paul's Rib Shack (4800 Nelson St.), Macfarlane's Celtic Pub (417 Ann St., and Stellar Beans (319 Broad St.) welcome doggos and their hoomans looking for great food, drinks, and dog-friendly atmospheres.
Places to Run: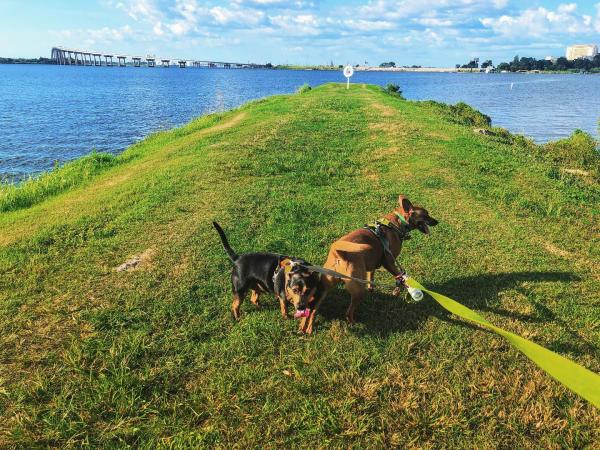 Prien Lake Park
Prien Lake Park (3700 W. Prien Lake Rd.) is my top choice for dog walks because of its wide-open green space, clear walking paths, and dog water fountains, which give it 5 stars for me. The park may have a few less trees after the hurricanes, but it's still a hot spot for people watching and exercise. Piper and Banquo absolutely lose their minds when we drive up to the park, and they tear off toward unsuspecting birds the moment we get out of the car (while they are still on leashes, of course). Ever since Bark du Lac's (100 W. Pine St.) opening back in 2017, the park has been a popular downtown spot for puppers looking for some off-leash activity. The park has two separate spaces – one for smaller babies and the other for those looking to play, and you'll always find a friend or two for your dog to become immediate best buds with. Don't forget that Macfarlane's Celtic Pub is right across the street!
Places to Shop:
When it's rainy outside or I'm pressed for time for a nice long walk, I bring my dogs to PetCo (545 W. Prien Lake Rd.). Not only does the entire place smell like tons of different animals (wow, really?) but your dog can pick out their favorite treat or toy while exploring a new place. Don't forget about the Charlestown Famers Market on Saturdays from 8 am to 12 pm! Dogs love exploring the smells and sounds, and you may see Paws Up Gourmet Dog Treats selling homemade goodies that'll keep your pup happy (Piper says hi!).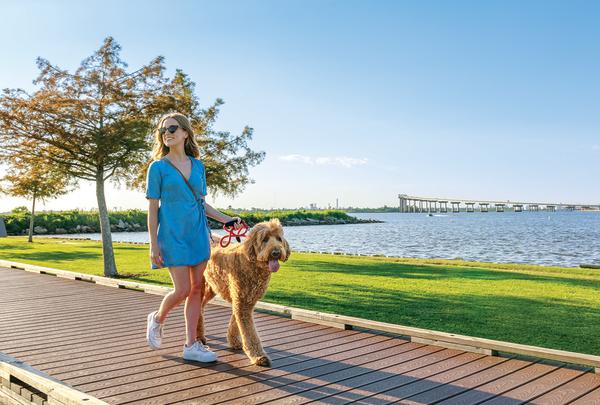 Places to Wear Them Out:
Lake Charles has its own selection of doggy daycare facilities that are a great way to give your dog some much-needed socialization. As an added bonus, when you pick them up at the end of the day, they'll snooze the rest of the evening. Black Bayou Boarding (www.blackbayouboarding.com) offers daycare, grooming, and boarding with a 7,000 square-foot enclosed and partially covered outdoor facility, and they'll even pick up your furbabies in a bus (perhaps my new dream job)! Paws on the Geaux (www.pawsonthegeaux.com) offers similar services as well as grooming and great treats and toys to purchase.
So let Lake Charles go to the dogs and head out on the town with your babies. Piper and Banquo will see y'all out there!