DAYTIME ACTIVITIES IN LOUISIANA'S PLAYGROUND!
Looking for ideas to have fun during the day? 

From shelling along Gulf beaches or exploring wildlife refuges, kayaking or lakeside dining, there is so much to do in the daytime in Louisiana's playground. For nightlife ideas, click here!
1. Picnics!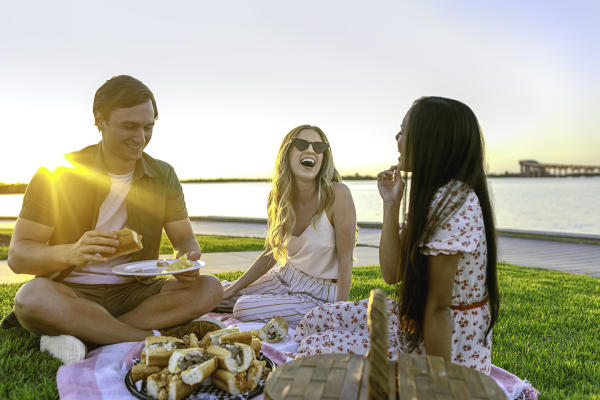 Lake Charles has great options for grabbing a sandwich and some sunshine with an outdoor picnic, and aren't the best sandwiches those you don't have to make yourself? Darrell's, a local favorite known for their hefty po'boys and the Darrell's Special (be sure to ask for extra napkins!). A great family-friendly picnic area is the Prien Lake Park featuring 29 acres of lakeside views, a boat launch, picnic tables, and a children's water park and play area. The Bord Du Lac Marina is another great option for stretching your legs or burning off energy. Here you'll find the popular Millennium Park, home to the giant treehouse playground, splash pad, rock climbing wall and plenty of shaded areas for those seeking a more serene surrounding. Parish Picnics offers a pop-up picnic service: their charcuterie boards are a perfect addition to your day-dates!  
2. Dining Outside or on the Water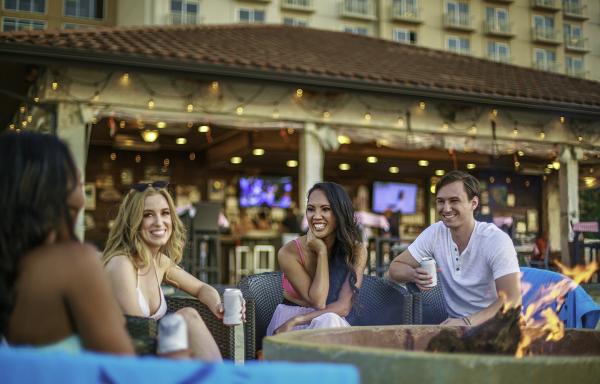 There's a reason Lake Charles get a lot of love when it comes to patio dining or options on the lake: the variety of tastes to offer. Enjoy the perfect blend of southern comfort food and beautiful outdoor weather by eating Al Fresco style with many selections for patio dining! Golden Nugget Casino offers Bill's Bar & Burger for lakeside dining. Loggerhead's is a local hidden gem that keeps the vibe going with two stories of patio dining offering American fare and island-style live music on the weekends - not to mention Laguna's right on Lake Charles near downtown.
3. Beaches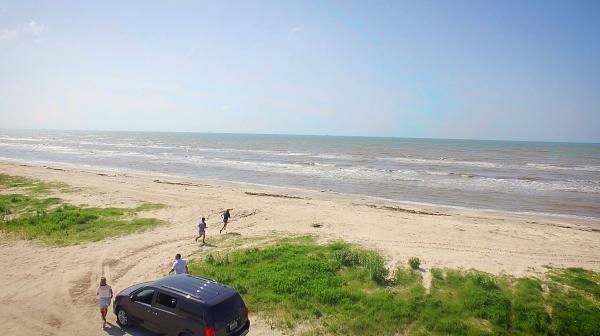 North Beach is located along the shores of the lake, right next to the Visit Lake Charles Welcome Center on Lakeshore Dr. It's the only white-sand inland beach from Texas to Florida - a perfect spot for getting some sun and enjoying a quiet breeze. Just south of Lake Charles into central Cameron Parish is where you'll find the more secluded Rutherford Beach. This quiet, uncrowded gulf beach is one of the last places you'll find that still allows overnight camping, great spots for fishing, and stunning sunset views. Holly Beach, known as the 'Cajun Riviera,' is a 30-mile stretch of south Louisiana coastline approximately one hour south of Lake Charles and Sulphur. This rustic beach is enjoyed by those seeking a day-trip destination for fishing and crabbing, collecting seashells, and bird watching! 
4. Creole Nature Trail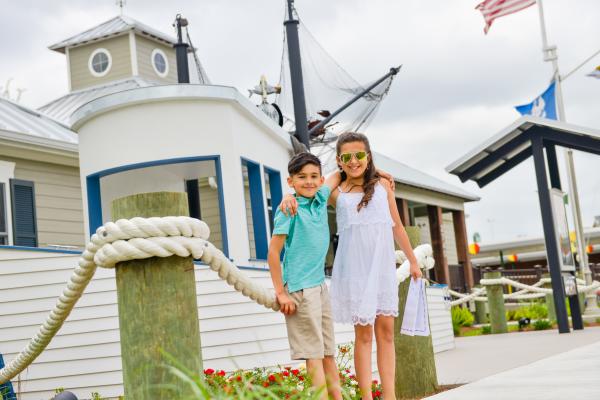 The Creole Nature Trail All-American Road is a world-famous experience unlike any other. Explore this majestic terrain on your journey through untamed wildlife habitats and estuaries of the coastal wetlands uniquely known to Louisiana. Visitors can drive along the 180-mile stretch of the state's prairies, marshes, and shores; or hike the trails along the Wetlands Walkway for up-close encounters with the birds and wildlife of Louisiana! Whichever you choose, make sure to start your trip at the Creole Nature Trail Adventure Point. This free, must-see attraction is your insider's guide to finding the best tips and tricks for navigating the Creole Nature Trail.
5. Brunch Time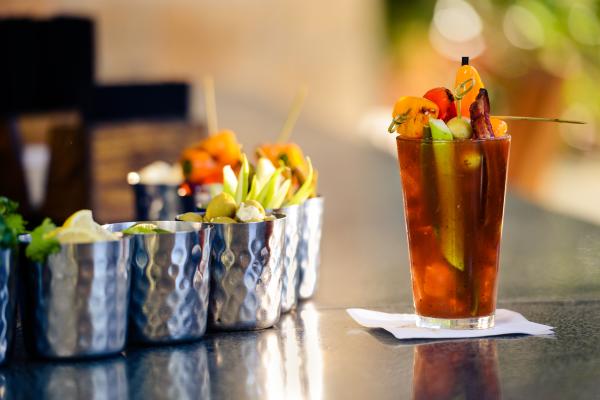 What do you get when you combine the best of breakfast around a leisurely lunch time sprinkled occasionally with the jazzy sounds of live, local musicians? Around here, we call that the best brunch in Lake Charles. Sunday brunches are all about taking it slow and enjoying the spirit of what it means to #FeedYourSoul. Luna Bar & Grill's Sunday Jazz Brunch, voted #1 in SWLA, has all the feels of a New Orleans patio-style dining experience. Enjoy a generous portion of Eggs Benedict over their homemade jumbo lump crab cakes that are out of this world! At Tia Juanita's Fish Camp, enjoy music, unlimited mimosas, Build Your Own Bloody Marys, and an incredible menu of Cajun-Mexican infusion for a brunch experience you'll never want to end. For a Cajun-inspired brunch with blues music, head to Rikenjaks or piano brunches at Drago's on Saturdays and Sundays.

Looking for more of a laid-back brunch without all the sound? Come as you are to Restaurant Calla and enjoy crafted cocktails and their famous blue crab beignets (you can thank us later for the suggestion!) Chart House at Golden Nugget Country Club welcomes everyone for the best scenery and menu selection, from perfectly-roasted prime rib to fresh crab-mango stacks. The Bekery is a pet-friendly brunch option that hits the sweet spot with scrumptious homemade pastries and baked goods prepared fresh every morning. 
6. South Beach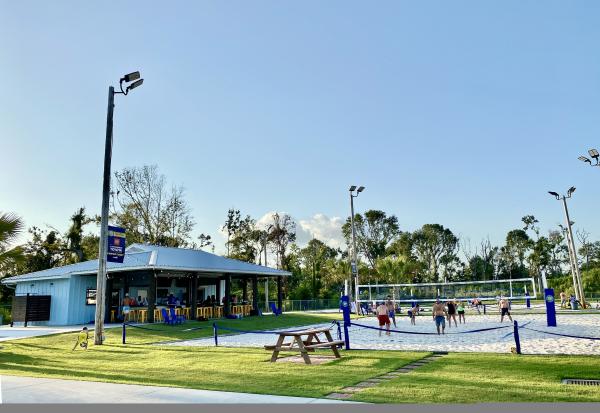 South Beach Sports Bar & Grill is a sand beach volleyball complex and food pavilion – complete with 9 courses. The restaurant has a casual atmosphere with outside dining and bar areas with TV's for viewing games or sporting events. You can sit outside, enjoy a good meal and play a game with friends or family. The restaurant menu has a selection of wings, hot dogs, nachos, po-boys, pizzas, and more. In addition, adult beverages are available including a wide variety of canned and draft beers, frozen and specialty cocktails. With the sounds of palm trees rustling in the wind, you'll feel like you've been transported to an island oasis. PS - Right next door is Crying Eagle Brewery with an outside beer garden and delicious bistro selections!
7. Activity/Rentals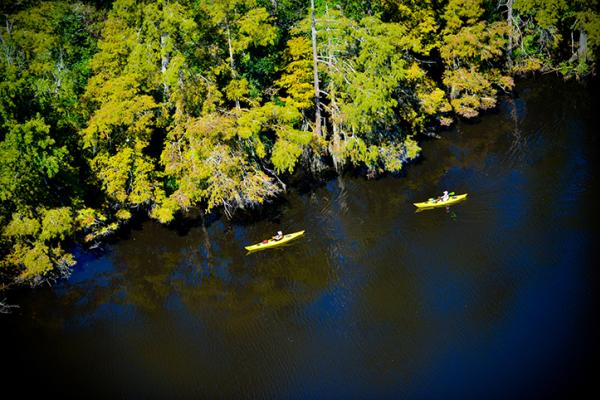 Southwest Louisiana is known for its beautiful outdoor scenery and waterways. There are several ways that you can partake in such activities, and you can leave the bikes, kayaks, paddleboards, jet skis, and boats at home! Some of our outdoor rental companies even feature guided tours that can really enhance your experience. Drift through lush marshlands and bayous at your own pace or get your feet on the pedals for a ride around downtown and the lakefront. Check out outdoor rental/tour companies to find your fit.
8 *Seasonal - SPAR Waterpark

SPAR Waterpark is open roughly whenever school ends at the end of May through the end of August. It's a water paradise and quick way to beat the summer heat. SPAR features a lazy rivers, a variety of slides and a splash pad for youngsters. With all the swimming and splashing, appetites are sure to grow! So, you can quench your thirst and hunger with a bite from the grill and concession stand!