ABOUT THE EPISODE 
Guest Sara Judson, the liaison for the Just Imagine SWLA project, joins hosts Brady and Anna on Louisiana's Playground to discuss what Just Imagine will mean for the future of Lake Charles. The project encompasses new amenities and businesses coming to the Lake Area, the Bayou Greenbelt, a new housing district, a focus on building up the Cameron coastline, an improvement to the local college and university districts, and so much more!  
ABOUT THE GUEST 
Sara Judson is the CEO of the Community Foundation of Southwest Louisiana, a role she has held since 2013. As a 4th generation citizen of Lake Charles, she has seen the importance firsthand of being an active member of the community.  Her current volunteer experience includes the Junior League of Lake Charles, Inc. Today; she spearheads the Just Imagine project to bring a new bright future to Southwest Louisiana. 
ENVIE EATS 
Nyyah's Authentic Cookshop is family owned and operated and opened its doors in April 2021. The quaint authentic Jamaican restaurant offers a drive-up window and food delivery service through DoorDash and Grubhub. The fresh menu offers entrees including Montego Bay Oxtail, Yah Mon Curry Goat, Jerk Wings, Shrimp, and Chicken salad, and vegetarian dishes. 
RESOURCES MENTIONED
PLACES MENTIONED TO VISIT NOW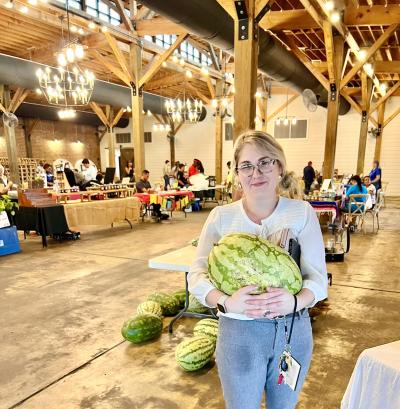 TRANSCRIPT
Sara Judson:  [00:00:01] Just imagine SWLA is a master resilience plan that gives our community the opportunity to have a plan related to economic development, to infrastructure, to quality of life and be a really transformational experience.
Brady Renard:           [00:00:20] Thanks for joining us on Louisiana's Playground Podcast. Your road map to all things Lake Charles Louisiana. I'm Brady Renard.
Anna Strider: [00:00:28] And I'm Anna Strider. We're excited to be here with you on the first episode of the New Year, Episode number 8. I can't believe we've already come this far and that is 2023 already. And we are excited because today's episode is all about what you can just imagine here in Southwest Louisiana.
Brady Renard:           [00:00:49] It's possibly going to be the most informational-packed show that we've had up to this point and probably will have as well as we talked to Sara Judson, the president and CEO of the community foundation of Southwest Louisiana as she takes our hand and guides us down the road that is the Just Imagine SWLA plan that's all about creating a bright new future for the area.
Anna Strider: [00:01:15] We're going to begin our show as we always do with our Envie Eats segment which is where Brady and I go out into the community and we dine at a local restaurant and bring you all the details about the delicious food that they're serving up. So when we were planning this episode we really wanted to go somewhere that was unique and brought something truly different and outside of the norm of our Cajun Creole soul food entrees that we just absolutely love and that's why we chose Nyyah's Authentic Cook Shop, which is a Jamaican restaurant and this family that opened Nyyah's, they moved to the area more than a decade ago and have truly made Lake Charles home. It wasn't until April of 2021 that they actually opened up their shop in really the heart of the Lake Charles community where they're located near Oak Boulevard and off of Enterprise there about seven minutes from either getting off the I210 Loop on Exit 7 or if you want to get into the heart of downtown and on the lakefront where we ate our food because when the fun fact is that they are also just a drive-thru restaurant.
Brady Renard:           [00:02:20] It's just a quaint little small building that it's great for ordering like something on maybe ASAP or one of the food delivery services or if you just swing through your car and go pick it up and I think that really plays into the food. Obviously, it's going to be served in the Styrofoam clamshell and it's all about that pearl that is inside. For me that was the, of course, I had to go jerk chicken right? The jerk chicken is a chicken that's going to be marinated in that jerk sauce and then it is thrown on the grill and it's going to be finished there and has a little bit of a gravy there at the end. They serve it with beans and rice. They have the steamed vegetables. It's a mixture of cabbage and green beans, carrots, that type of fair. And then of course, my favorite part of the meal, the two plantains that are on top, which as you know a little bit like a banana. It's a little bit different flavor than a banana but it's a little mushy but at the same time has a little bit of a crisp to it. It's sweet but not overly sweet. It's one of my favorite things to eat and always a must when I get any type of Latino Caribbean type of food that really where plantains are a big part of their culture. It's a must-get every time.
Anna Strider: [00:03:30] Sitting here talking about these plantains, I'm wishing we were eating them right now on the podcast. I on hang out the Montego Bay Oxtail, which if you're not familiar with Oxtail, it is really a delicacy portion of the meat. It's the tale of the cattle there and it is absolutely rich in flavor. I mean the meat just fell off the bone there and they had the sauces that were with it because the dish of course comes with that rice and vegetables. I love cabbage personally. So their steamed cabbage that was mixed with all the other vegetables was one of the highlights of the dish for me.
Brady Renard:           [00:04:05] And you ate all of my cabbage too.
Anna Strider: [00:04:07] I did. I did take all of your cabbage on top of eating the entire box. So I was quite hungry apparently. The menu though had so many different options to choose from. It was really hard. They also serve up curry goat and curry shrimp, which I just love the flavor of curry personally and brings me back to really college for some reason we ate a lot of curry chicken everything when I was there. So this is just such an authentic experience. When you pull up to the window and when they open it, the scent just rolls out. I know we've said that before, but it is so true of this particular spot and nice.
Brady Renard:           [00:04:43] and you can hear the Jamaican accent as you place your order and their employees so welcoming, so nice and it's just a really fun experience. If you're worried about the spices, it's a very mild jerk chicken. So it's not very hot salsa. If you're not a big fan of heat, don't worry, the jerk chicken should still be on your plate.
Anna Strider: [00:05:03] I couldn't agree more. And they also have the jerk chicken wings too. I know that was tough that we didn't get the wings this time. So we'll have to go back and try those out. Head on over to Nyyah's Cook Shop, go through the drive-through and let us know what you think of one of these great finds here in Southwest Louisiana.
Brady Renard:           [00:05:21] From a great meal to a great guest. We welcome on Sara Judson. She's the CEO of the Community Foundation of Southwest Louisiana, a role that she's held since 2013. As a fourth-generation citizen of Lake Charles, she's seen the importance firsthand of being an active member in the community. Her current volunteer experience includes Junior League of Lake Charles where she was named the 2013 Sustainer of the Year, as well as being a board member for the Council for a Better Louisiana. Now she's spearheading the Just Imagine project to bring a bright new future to Southwest Louisiana. Welcome to the show, Sara.
Sara Judson:  [00:05:56] Thank you for having me.
Anna Strider: [00:05:58] We're excited to have you here today, Sara and we're going to be talking about so many great things that are coming to the area as well as that are already here that we're working to enhance. But before we get started with our topic today we're going to ask a few rapid-fire questions to get to know you a little bit better. Are you ready?
Sara Judson:  [00:06:14] I hope so.
Anna Strider: [00:06:15] Alright. First one, crawfish or gumbo?
Sara Judson:  [00:06:19] Crawfish.
Brady Renard:           [00:06:20] Why?
Sara Judson:  [00:06:21] It just reminds me of so much fun, family time, friends mostly in the springtime and lots of good memories and it's really tasty as well.
Brady Renard:           [00:06:31] We asked this every time and it really, it's hard to argue against either of them because we love them both. I'm a gumbo guy. She's a crawfish girl. So I really do feel like we do learn plenty about people from just which food item they'd like better.
Sara Judson:  [00:06:46] And really, I'm with you. It's quite a competition there because gumbo and you can have so many varieties of gumbo and also lots of good fellowship around a great bowl of gumbo and especially in cold weather time. So they're both winners.
Anna Strider: [00:07:00] I couldn't agree more. So our next question: poolside or beachside?
Sara Judson:  [00:07:05] Hmm, I'm going with the pool. I think I just like that better, little easier for the inside-outside combo and also lots of places to do that with friends and family.
Anna Strider: [00:07:18] Especially here in Southwest Louisiana at the casinos. I know they've got great pools during the summertime.
Sara Judson:  [00:07:22] Yes. Those cabanas. Really nice.
Anna Strider: [00:07:25] Yes.
Brady Renard:           [00:07:25] The Lazy River. Super nice.
Anna Strider: [00:07:28] How could we forget?
Sara Judson:  [00:07:29] And you get a wait staff there too. So all the bonus.
Anna Strider: [00:07:32] The full package there at the pool. Alright, and our final one: concert or comedy show?
Sara Judson:  [00:07:38] I'm going to go concert. I think for that just, especially when it's somebody that brings back a lot of memories. I kind of joke-songs that I remember from like high school dances and my daughter always goes, yeah, mom, we know that. But whatever I can hear some folks, especially like as an example for me as Hall & Oates my friends and I from high school, we call them Darryl and John like there are good friends. They were at the casino a few years ago. So we got to hear them.
Anna Strider: [00:08:07] Got the whole group together and went out and danced like it was old times.
Sara Judson:  [00:08:10] Yes, exactly like we were in the high school gym. Yeah.
Brady Renard:           [00:08:14] Now that we've gotten to know you a little bit better through our questions, let's start at the task at hand which is the Just Imagine project. Before we dive into everything that it entails, what is it from a bird's eye view?
Sara Judson:  [00:08:26] Well the Just Imagine plan and it's Just Imagine and SWLA for Southwest Louisiana. So Lake Charles, Calcasieu Parish and the surrounding five parish area and it came about post-hurricane Laura and for folks listening today you may not have lived it, but a traumatic experience for Southwest Louisiana and this is one of those silver linings. So this, just imagine SWLA is a master resilience plan that gives our community of the whole region the opportunity to have a plan that will take us through a variety of enhancements related to economic development, to infrastructure, to quality of life and be a really transformational experience for not only people who live here but people that come to visit, people that may be interested in working here. All of those things, it has an impact for the whole region.
Brady Renard:           [00:09:26] I think that's the really the most interesting part to me about this plan is that it impacts just about every facet of what a community is and represents. Ten total catalytic projects and the Bayou Greenbelt. Can you go over those for us?
Sara Judson:  [00:09:42] Sure. So the way this got started as well was from this amazing grant from a guy who grew up in Moss Bluff, just north of Lake Charles, and went to Sam Houston High School, later went to Tulane and he and one of his friends after college created a little thing called Yahoo. So his name is David Filo and his wife Angela. They live in the San Francisco Bay Area. Yet after Hurricane Laura, they really saw the devastation in the region, talked to their family about it and decided that this was a place that they really wanted to make a difference and a transformational difference.
          Their foundation team visited with us at our Community Foundation and said, here's what we want to do. We want to make as positive an impact as we can on building a more resilient region. They care about housing, they care about quality of life, they care about the climate and how we enhance our region to be able to deal with that for the longer term. So that's how this came to be and how these 10 projects and this exciting idea of a Bayou Greenbelt came out of this plan is that they had the vision to say, we want to make this significant grant which ultimately was $2.5 million and ask our Community Foundation to steward that donation and to build a more resilient region.
          So what an amazing opportunity that we have so many people that can look at not only the Lake Charles area of Calcasieu Parish, which is like a county for those who don't live in Louisiana and also Cameron which borders the Gulf Coast, the two areas most impacted by the storms and the most opportunity to building a more resilient fashion.
          We then were able to do a request for, a proposal for world-class master planners. We had five different companies, some from around the region and others from across the country. Ultimately a team of people chose a company called Urban Design Associates based in Pittsburgh to be our partner. They also created a team that involved some Louisiana companies like Stantec Engineering and local economic developers from Louisiana as well. And all together they got input from people across the region for almost a year. We had three different rounds of sessions and we always had one in Cameron Parish, close to the Gulf Coast. One in West Calcasieu closer to the Texas border and one right in the city of Lake Charles.
          We had high school students participate, business owners, elected officials, all sorts of people said, here's what we love about the region and here's our vision for the future, and also here's some things that have been challenges like our natural disaster. So how do we take all that into consideration to make the best area we can be for the long term and that's how the plan got started. Then ultimately we have these 10 projects and Bayou Greenbelt.
Anna Strider: [00:12:55] I know as a newer resident to the area just in the last 10 months that I've been here, I've been able to see so much progress and people coming together and the energy that's being built up around these conversations and seeing all of this communication that was happening in so many different partners of the community and community members just on board and passionate about what's ahead just makes these 10 catalytic projects and the Bayou Greenbelt about that much more exciting.
Sara Judson:  [00:13:23] Yes, it really is. And for me, who has been here most of my life, to be here and have young people whether they're in high school or they're at McNeese State or local university or they're young professionals, everyone who gets a little taste of these opportunities and see something that they really think will be of great value to the region, for so many that they're saying, I want to be a part of this, I want to volunteer and it's because they're so inspired to be a part of a transformational difference.
          One of the things that I think people are super excited about is the Bayou Greenbelt during all these sessions and the opportunity to look at an interactive map on the website and put little pins in to say, here's an idea of a place I love to go or I would love to be able to be in a kayak or a canoe in a certain place or I would love to be able to have a bike trail in a certain place. So people gave lots of input like that. So one of the outcomes in the plan is to ultimately have a really significant system of blue ways to connect all our waterways and greenways to have trails and bike paths that in some cases go alongside of a waterway. That really fit with a vision that a local engineer had several years ago and it was to connect the waterways around the city of Lake Charles.
          When people said, what do you love about the area in this whole Just Imagine process, so many people said we love the natural resources, we love that we are literally on a lake that 10 comes right by it. There's a beach you can enjoy. There are bayous, you can be out and enjoy and you can fish and you can be out and do deep sea fishing and limited amount of time in the Gulf of Mexico. So many opportunities for that and Bayou Greenbelt would actually connect Calcasieu River, Contraband Bayou a drainage lateral called the Coyote Coulee but it really can be navigable. And so actually making that happen, making it deeper and wider and beautifying some areas. All of those things could really be a wow experience for so many people.
          One of the things I learned during this process is that in San Antonio the river walk there started I think in the 1930s as a drainage lateral. So it was a project to enhance drainage. A garden club said, wait a minute, this has got to look nice. That's was how it started and now we all know how amazing the San Antonio River Walk is. So we love to learn about these different examples and see how can we make something like bayou greenbelt become a reality and a real signature piece for people who live here and people that visit.
Brady Renard:           [00:16:26] I think it's important to point out that we already have kind of a taste of what bayou greenbelt can be in Riverside Park in North Lake Charles. I was able to visit it a few weeks ago and was blown away. I called it a slice of Louisiana heaven just because you're on the river there and then you walk around and it's a secluded walkway. It's shaded it. The weather was perfect on the day that I was there and then you cut around and it's a child's playground, you have a pavilion set up if you wanted to host a gathering or you have grills there to be able to cook, anything that you just caught right there on the river. I think that is a microcosm of what this project can be.
Sara Judson:  [00:17:11] Exactly. And I can tell you, one, our board chair at the Community Foundation Marshall Simien, it really was his vision a number of years ago. He served on our city council and he lives on the Calcasieu River and he said, more people need to get to experience this. So the city made an investment and created that and last year or so we had the national park service in town. They've actually been to visit several times because they are a partner in creating the concept for bayou greenbelt as well as enhancing some of our other tourist destinations in Cameron Parish.
          We're excited to have them and their expertise and their ideas to help get these things going. When they first visited Riverside, they said the same thing that you did Brady, that this is a great example of what you want to do for people to be able to experience life on the water. There's a place where people can fish, they can launch a boat, they can have a birthday party, they can just go for their afternoon walk, whatever it might be. That really is a tremendous example and will be a part of the bayou greenbelt.
Anna Strider: [00:18:29] I know for me, I'm an avid kayaker. I love to ride my bike. So Brady put together a little video out on Facebook that day that he visited and I was convinced to go visit and I couldn't agree with everything you're saying more. You mentioned Cameron Parish and some of the enhancements that are going on down there and that the National Park Service is excited about. Tell us a little bit about that.
Sara Judson:  [00:18:54] Yeah, it really was allowed to have people that have that kind of experience. Be able to come and be a part of the Creole Nature Trail to see my favorite, the roseate spoonbill and of course some alligators too. When you have somebody visiting Southwest Louisiana, they usually want to see an alligator and we've been able to show them off kind of like we planned it for that and the roseate spoonbills for our friends at the park service. One of the things we showed them was pintail drive, which is so easy to do as you're on the Creole Nature Trail and we took them down to Rutherford beach. During the COVID shutdown time, our daughter found that Rutherford Beach was her favorite place to go that it's close by but yet you're right there on the Gulf and get some great sunsets, pick up some shells and that kind of thing.
          So part of what the park service is recommending to us is that we would add some enhancements, like nicer restroom facilities. They have some but making those better, enhancing parking and then also part of this fits together with one of our parts of the Just Imagine plan which is coastal risk reduction. For those not as familiar with life on the Gulf Coast, there are so many different strategies of how you protect your land and your communities from the major impact that water can have during something like a hurricane or a tropical storm.
          There are different strategies, some of those are creating berms which is similar to a levee and you plant them with a certain kind of dune grass and they can then become a barrier, not completely but they can really make a difference and slowing the speed of water and the volume of water coming across. Some of that vision is that you're enhancing the beaches in a way that reduces the risk of flooding and it also makes it look even nicer to be able to enjoy the beach but you've added that infrastructure as some of that protection. So those kind of things are in the Just Imagine plan and are also recommended from the park service as how we enjoy those areas and keep them for the long term.
Brady Renard:           [00:21:17] And the coastal risk reduction project, it's not flashy but it's so important to what the state is and with that while not a project the Bayou Greenbelt as we've been talking about connects all of these projects, which is why it's so important to kind of mention with it because you talk about what's going there on the Gulf. Then here in the city with McNeese bayou greenbelt runs right through it.
Sara Judson:  [00:21:40] Yeah, it's amazing. When the park service first visited and we actually did a tour in little green, flat-bottom boats and were able to be in part of the Coyote Cooley, which nobody else has ever been in. So that was really exciting to see that this really could work. Then also in the Contraband Bayou that park service said this could be a signature project and we are so excited that McNeese, our local university that is such an integral part of the community, that they are the leader in opening part of their Contraband Bayou that runs right through campus to be the first phase of Bayou Greenbelt. They already have been able to secure funding and get work done to enhance the bayou right through campus. Now it has a lovely bridge that connects dormitories across to the main campus right behind the library.
          Those are the kind of things that are in process that are a part of a grand plan but there's so many small parts that could really make an impact. Knowing that you would have that kind of chance on a campus to do that could really attract some students.
Brady Renard:           [00:22:50] We've had a previous episode speaking of the McNeese athletic. So we've seen how that portion of McNeese has been improved with the Bayou Greenbelt. What other areas of improvement or ideas for the McNeese area resilience district, which is one of the projects?
Sara Judson:  [00:23:08] So one of those really connects well to this segment where the contraband bayou runs through and Common Street is one of the borders of McNeese State University and currently it's a fairly busy street and students need to get across campus, for instance, to go to the Legacy Center which is the amazing basketball and volleyball arena. What the plan suggests is that we could do what's called traffic calming on Common Street so that you reduce the flow, you add more trees, enhance the sidewalk, potentially have a bike lane so that it makes it easier for students to be getting around campus because all of those would be fit together in a really nice package there on that side of campus.
Brady Renard:           [00:23:59] There always is something special about a university that is really integrated into the community obviously, culturally, but physically.
Sara Judson:  [00:24:08] Yes. I mean our university is really right in the center of Lake Charles and so to have them have the students be able to easily access not only their campus life, but the downtown of Lake Charles, that's another piece. One of our projects is strong downtown's not just for the city, but for the other areas of Sulphur and to Quincy and Benton, and even other parts of our region, we want to do things that enhance them with retail again with walkability with the ability to connect more easily and so doing that connectivity in ways for McNeese is really important and that's part of the plan as well.
Anna Strider: [00:24:48] With McNeese State University bringing so many great additions to the campus life. We have our other college in town SOWELA Community and Technical College that's bringing a lot of great things to their curriculum there. They're also expanding on their surrounding campus and in conjunction with the Chanel International Airport that's right there in that area, they have a lot of great things that are coming out of the Just Imagine plan as well.
Sara Judson:  [00:25:12] Both of those are assets for Southwest Louisiana and we want them to have what they need to be successful. SOWELA is one of the top technical community colleges in the country and has been for several years and they do outstanding work providing quality employees to our area industry and so they have continued to expand yet their campus in the neighborhoods around it still need to be able to keep up with all the awesome work that's happening at SOWELA and then their next door neighbor on their campus is the Chennault Terra Park. If people aren't familiar with that, just some amazing work that several companies one of those citadel completions, they have airplanes from companies and private individuals from around the world that go there to be transformed into their private aircrafts. The work that happens in Lake Charles Louisiana is really kind of undercover if you will but it's happening there at Channel that people from all over their planes are flown in for that kind of work to be done.
          Another company called Landlocked Aviation, they repaint and enhance the mechanics of planes. So big companies like Delta that they have contracts with this company. A lot of things are happening at Chennault and it's important that that part of our community have the amenities that they need to support that workforce and continue to enhance our education as well as our economic development at SOWELA and at Chennault.
Anna Strider: [00:26:50] In Lake Charles, there's also Nellie Lutcher District that has a lot of exciting things coming. I know right now they have the Cash & Carry building that has weddings in. It has a weekly farmer's market, which by the way, I absolutely love some of the dishes that you can get there. The fresh food. I bought a watermelon there, last time I went. So, all that's currently there and there's –
Brady Renard:           [00:27:14] Just thinking of you carrying a watermelon under your arm, going to your car.
Anna Strider: [00:27:16] [Crosstalk 00:27:17] took a photo of it and I'm like holding this very large watermelon.
Brady Renard:           [00:27:21] That's going in the podcast by the way.
Anna Strider: [00:27:25] Well we'll put in the show notes a photo of me with the watermelon. There's so many things that area that has so much potential for. The city of Lake Charles for instance, is working on a parkway green space in that area, correct?
Sara Judson:  [00:27:40] Yes. The Nellie Lutcher District is a really exciting project and our Community Foundation actually several years ago we really saw that as a way to engage more people in getting off of Interstate 10 because it literally intersects right there with I10. And so the city had that interest as well. So we did a little demonstration project for a weekend to show what if we enhanced green space. We did some traffic calming, added more trees, had more walkability. How could that positively impact the retail and other businesses there? It was very well received.
          The city already has committed to doing a park and it will honor Nellie Lutcher who for folks that may not know. She was born and raised in Lake Charles and then especially the 1940s, she was a world known pianist and jazz singer and she really left her mark on that part of our culture. And so we want to recognize her. We have an amazing Mardi Gras museum here and there's a vision that could be a part of the Nellie Lutcher District as well. And when you think of all the things that could go with the Mardi Gras museum, we think about King Cakes and costumes and people buying beads. We really do see a lot of opportunity for more retail and experiences not only for folks who live here, but people who just want to enjoy the culture of Southwest Louisiana.
Brady Renard:           [00:29:10] Speaking of those type of experiences, it ties back to what the strong downtown project will be specifically for Lake Charles as early as next year. Lakefront development coming in from Lake Area Adventures, which will be obviously a chance to experience the outdoor activities at the water here offers, to Crying Eagle Brewery, which will be much more cuisine-focused.
Sara Judson:  [00:29:37] Yes. And you know, all of that waterfront development connects well to the downtown and then not very far away it really is walkable and making it more walkable as part of the plan. You get to the Nellie Lutcher District. So whether people are driving down I10 and want to pop off and enjoy food and beverage and the view from the new Crying Eagle, are they pop in downtown or keep going a little bit and enjoy whatever, we're going to have exciting to offer in the Nellie Lutcher District, all of that will be really easily accessible.
          On the waterfront, people said we love that we are Lake Charles. We are a city built around the lake and we want more people to be able to enjoy it. The goal of the plan and this will take time, but ultimately I believe we'll get there, is to have a public edge as in a boardwalk that goes all around the beach behind our Civic Center where hopefully we'll also ultimately have a hotel, and our awesome Millennium Park that many, many children and families enjoy on a regular basis.
          When you have that kind of public edge, so many more people can enjoy all the things along the waterfront. And of course besides the food and beverage part, but that signature of port wonder, our Children's Museum and Science Center is such a team effort, very much public-private partnerships that we hear about all over the country. This is an ideal example and it's going to be something that people of many generations can enjoy. Having that as a destination in addition to the opportunity for food and beverage and the opportunity if you want to hop in a kayak or rent a pontoon boat and experience the waterfront to do that all in the same place is going to be incredible.
Anna Strider: [00:31:31] Mayor Nick Hunter when we were having the unveiling of some of the draw links and the renderings of what was going to be along the lakefront, he referred to it as our front porch. I know my family spent so much of our time on our front porch we would make a joke of, what are we doing today? Oh, we're going to front porch sit and we would sit there and we'd talk and enjoy our time. Now Lake Charles is creating that front porch to invite people in and for us to truly enjoy and create those memories.
Sara Judson:  [00:31:58] Yeah. It's so exciting to that, the reason that we called it waterfront development is, it's for the part that we're talking about on Lake Charles it's also for Westlake our community right across the river and doing their waterfront as well so there are also examples there of how that could be enhanced to really enjoy that riverfront if you will. Then of course with the Horseshoe Casino, they also will be enhancing their public edge so that people can enjoy their part of the waterfront. All of these things really tie together really a lot to offer.
Anna Strider: [00:32:35] With all of this development coming in, so many reasons to come to our area, I know that housing has been a big piece of the conversation. One of the catalytic projects is the mid-city neighborhood transformation. There's pieces of the puzzle that are in play to help enhance our housing and what's provided in our downtown areas and surrounding.
Sara Judson:  [00:32:56] Yes, the number one challenge that people said was housing and specifically affordable housing and we also in our region want to build housing in the most resilient or fortified ways as we can. So ultimately we have two projects that relate to housing and one of those is this mid-city neighborhood transformation. It is on property that's actually 38 acres in the core of the city right on Lake Street and near our Interstate 210 bypass and has been selected for this potential transformation.
          The goal is that it would be a mixed-income neighborhood, a variety of housing choices as far as the number of bedrooms, bathrooms, that kind of thing. Then not cookie cutter either. The City and the Housing Authority have currently embarked on a hood choice neighborhood grant, which many communities have very successfully implemented the ultimate goal of having that mixed-income opportunity so that we increase housing and we are in a place where people have easy access to work and schools. It really just would be transformational for the city.
          Another part related to housing is our resilient housing toolkit and that is actually already available online and people can easily check that and so no matter where you live it really is interesting to see if you are doing a remodel or are building new, how you incorporate resilient features like what's called a fortified roof, just a variety of things that are recommended by FEMA, recommended by folks in the construction world, but we put it all together in a really user-friendly format so that builders, as well as homeowners, can use that to building a more resilient fashion.
Brady Renard:           [00:34:53] I think it's an important note that the project champions for the mid-city and other projects, these aren't just ideas that sound good and are trying to execute. The champions have gone to other places, other cities and saw projects firsthand to really get the inspiration and nail down the execution of what we can bring here. So we're getting, peer tested so to speak tangible projects.
Sara Judson:  [00:35:24] Yes, When, when a team of people from the Lake Charles area went to visit New Orleans and we saw three different housing developments, mixed-income neighborhoods, two were actually part of the hood choice neighborhood and another was more of a public-private partnership that did theirs, but all very similar. And so we were able to see these neighborhoods in New Orleans and meet with the developers and people that lived there as well. We met with some folks that are residents and to know that many of these were built post Hurricane Katrina. So over 15 years ago and they still are lovely neighborhoods, they are so well kept inside as well as outside in their green spaces and it really did inspire us that this is something we can do in Lake Charles as well.
Anna Strider: [00:36:13] As we're kicking off 2023, I know just how impactful it is that we've all committed to just imagine and we really see what this community is now and the potential of what it is going to be in the future and that just makes it such a special place for our region and truly in the south to put ourselves on the map as Lake Charles Southwest Louisiana. This is somewhere where you truly want to visit and play and work and live in this area because it has all these different amenities and everyone is coming together to truly make it somewhere special.
Sara Judson:  [00:36:52] Exactly. We have been so really wowed I guess by the number of people that are in the area that didn't grow up here. It's one for me as a native to love it and want to help make it better. Other people who maybe, I had one friend who lived in Dallas most of her life and she said she's been here for about 20 years and she read the whole entire executive summary of Just Imagine and is ready to be a part of making it happen because she said that her time living here she has seen the potential and she is so excited seeing a team come together, people from the business community, education, our new LNG facilities, just so many people coming together to say we are going to do this.
          We are so honored to have this grant from the Filos that allowed Southwest Louisiana the chance to have world-class master planners who now have worked with our community to develop a 50-year resilience plan. That doesn't happen every day. So the fact that we have it is really a gift and people are really energized as they see the projects coming together. Now we're moving forward and starting to make them happen.
Brady Renard:           [00:38:10] Is there a chance we won't recognize Lake Charles in 25 years?
Sara Judson:  [00:38:14] I think so. That just makes me excited to have that vision. As we sit here today looking out on Lake Charles and to think about so many years ago when you look at pictures in our lakefront area on the city side did not look like that. It was warehouses and it was a very industrial feel. It has transformed through the decades into being more businesses and things like our Millennium Park and the Civic Center. So yes, things do transform over time and with our Just Imagine vision and the plans to specifically make them happen, we're poised to do that.
Anna Strider: [00:38:57] So many things coming to our area. Southwest Louisiana is truly a place that you're going to want to come and visit and experience. So you'll be able to find all the information about the 10 catalytic projects, the bayou greenbelt and a lot of the different places that we mentioned today in the show notes. So check them out online.
Brady Renard:           [00:39:17] For the future moving forward I know there's an email list and all that's available, justimagineswla.org.
Sara Judson:  [00:39:25] Correct. Yeah, we'll have quarterly newsletters and so of course following on social media, whether it's Facebook or Instagram. There are so many stories to tell. Little by little as our champions and project leads, get work done, we want to share it. So please join us and be along for the journey of Just Imagine Southwest Louisiana.
Brady Renard:           [00:39:44] Thanks for joining us on the podcast.
Sara Judson:  [00:39:45] Thank you. Enjoyed it.
Brady Renard:           [00:39:49] And thanks again to Sara for joining us here on the show and thank you for taking time out of your day to join us here on the podcast. If you enjoyed the show, please leave us a rating or a review wherever you listen to your podcast.
Anna Strider: [00:40:03] Every time you listen to the show and leave us a review or rating it helps us further be able to tell the authentic stories of Southwest Louisiana. Go to visitlakecharles.org/podcast for more episodes, where to eat and the events going on this weekend. I'm Anna Strider.
Brady Renard:           [00:40:23] And I'm Brady Renard. Thanks again for coming to play at Louisiana's Playground. Stay tuned.
[End of Transcript]