When you visit Southwest Louisiana for the first time, you may be surprised by the vast array of artistic talent found in this creative corner of the state. Don't limit your cultural search to galleries, museums, and coffee shops. Appreciate the artwork adorning outdoor walls in downtown Lake Charles, as well. Colorful murals are popping up on the sides of several downtown buildings. The most notable example is Candice Alexander's Tree of Life project on the south side of the Charleston Building on Ryan St. in Lake Charles.
In 2012, Alexander relocated her business, Alexander Art Studio, from Central School Arts and Humanities to the historic Charleston Building at 900 Ryan St. In addition to higher visibility, she was attracted by the location's exterior façade.
"It was so obvious that the wall of the building was just a huge 140 foot canvas," says Alexander. A few months after she settled in, she superimposed a photo of a tree muralists had created in Seattle onto a photo of the side of the Charleston Building. Alexander proposed the "Tree of Life" idea to the building owners, who apparently loved the idea because soon after, the American Press printed the photo on the newspaper's front page. At that point, she was committed to the project.
Six months ago, she and a team of artists began painting and assembling the mural. She has involved the Southwest Louisiana community in this impressive endeavor. Local citizens, families, and business owners donate "leaves" to put on the tree. School children contribute artwork. Alexander describes the tree mural as a perpetual work in progress, as more and more leaves are added. "It's a tree," she says. "It's ever growing. It's powerful."
Alexander Art Studio and the Tree of Life mural recently won the 2015 Mayor's Art Award for Best Arts Organization.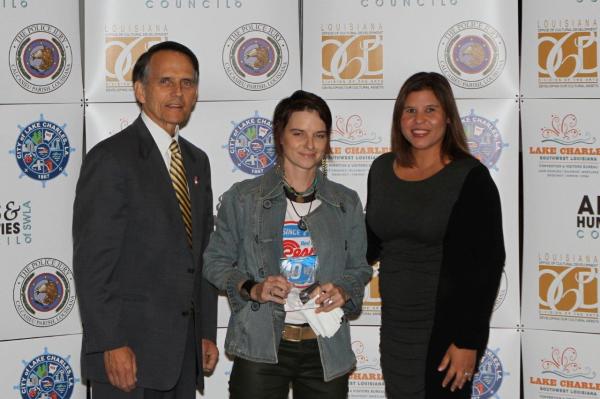 Alexander is best known for her signature fleur-de-lis motifs. After over a decade of creating artwork bearing this iconic symbol of Louisiana, Alexander has no idea exactly how many different designs exist, but she guesses over 800.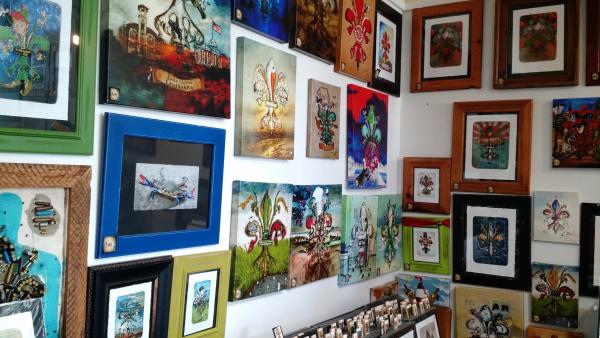 Her fleur de lis design got its start from an unclaimed engraved commission piece. The originals were a simple black and white design, printed one by one on a press.
She tired of the black and white design, but knew she was onto something big. Alexander began adding colors; red, purple and gold. She drew and embellished the prints. When she sketched a sailor theme over a fleur de lis, she realized she could incorporate an endless number of occupations. "I just didn't stop -- for years."
Certainly, her enchanting fleur de lis images are best-sellers, but Alexander does not limit herself artistically. She also creates eclectic "assemblage" pieces, similar to mixed media. "It's a collection of objects that when you put them together, they look like they have a role, or a story, or they tell a poem," says Alexander. Her recent commissions from a local chiropractor and Tia Juanita's Fish Camp exemplify this style of art. Her work also has been commissioned by celebrities such as Keith Urban and the creators of American Horror Story.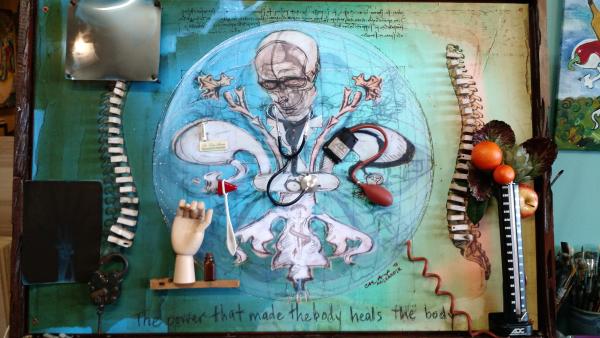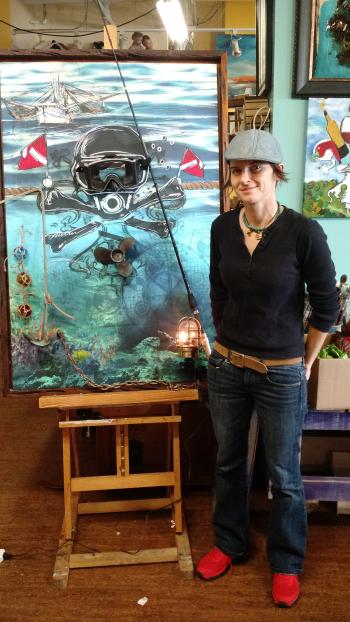 Visit Alexander Art Studio at 900 Ryan St. Browse her fully-stocked gallery and discover a myriad of unique items, from prints and smart phone protectors to pot holders, jewelry, mugs, and apparel, all sporting her enchanting fleur-de-lis motifs.

Open Friday 11 a.m. - 6 p.m., Saturday 11 a.m. - 5 p.m. Visit the website, www.candicealexander.com or call 337-433-2299.