Frank Thompson, a Southwest Louisiana native, meticulously creates mesmerizing works of art from sheets of colored glass.  A builder and contractor by trade, he started making stained glass art full time in 1982. He was well-known for his church windows and chunky colorful glass crosses. He enjoyed making stained glass, but in 2009, Thompson's artistic career took a new and exciting path.
A customer said she didn't have many windows or much light in her home. This led Thompson to develop a unique method for light to shine through glass when hanging on a wall instead of a window. He attaches fused glass two inches way from a polished aluminum backing. The aluminum reflects light through the glass, creating a stunning visual effect. Thompson calls his work Fused Glass Wall Art.
Thompson works countless hours in his sprawling studio tucked away on his serene property bordering Calcasieu and Beauregard Parishes. He has lived there most all of his life and built a home for his wife Eva and their four children, now young adults. He especially enjoys working at night, when it's quiet and there are no distractions.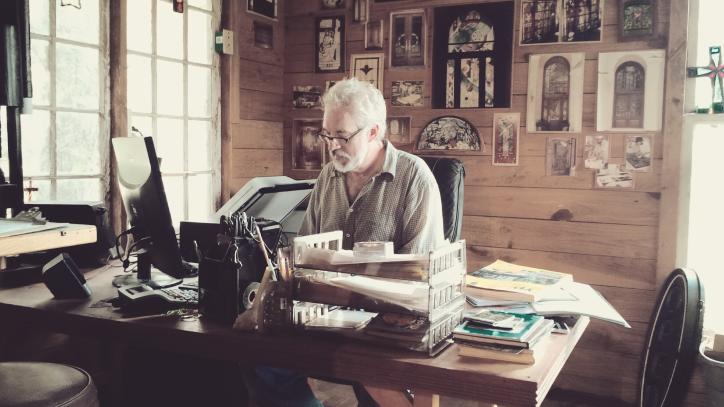 "I do a mixed media-type work," says Thompson. "The aluminum backing behind the piece is polished according to the glass design, so that it becomes one unit. The backing brings out the dynamics and energy of the piece."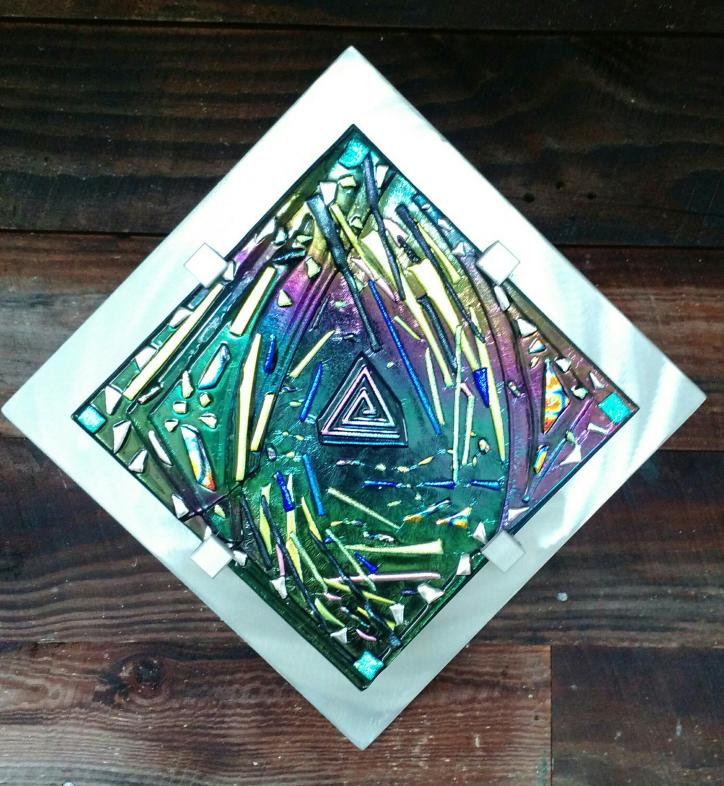 Thompson describes his work as unique. "Other people do fused glass, but it is more functional, like bowls and plates. Very few artists create wall art with fused glass. There was no precedent. I had to figure it out. I knew what I wanted, but how to get it done took awhile. I found a niche that creates this spectacular artwork that people have never seen before."
Thompson takes his artistic cue from nature. His work is inspired by and reflects the serenity of tropical islands, incorporating lots of blues, greens, and vibrant colors. He uses dichroic glass which changes color depending on the light shining through the piece or the angle at which you view it. Thompson's goal is to bring positive energy and calmness into people's homes, businesses, and lives. He names each piece he designs and often makes several of the same design, but each piece is slightly different and has an archived number and certificate of authenticity. He also creates one-of-a-kind commissions.
One of Thompson's most popular designs is this three-paneled "triptic" he titled "Boundary Between Earth and Sky," which he says depicts life. "Life comes along relatively slowly, and then you're hit with some chaos, but there's beauty in that chaos – you just have to find it."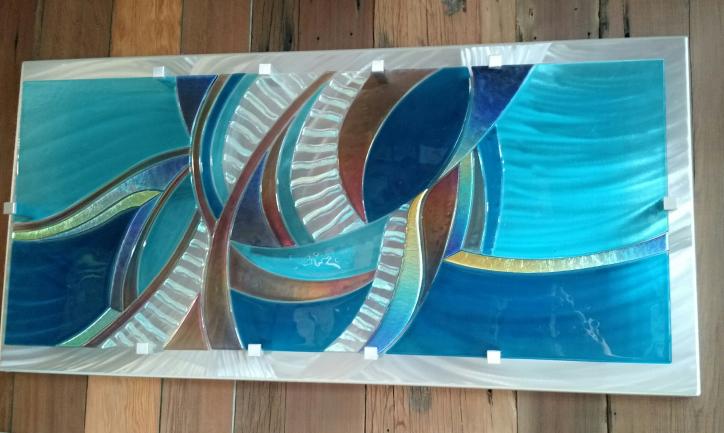 Thompson's creative process begins with an idea. He draws the design out on paper and makes a template. He cuts each piece of glass and lays the colorful shapes onto a solid pane of clear glass. Then he fires the piece in a large kiln for approximately 40 hours.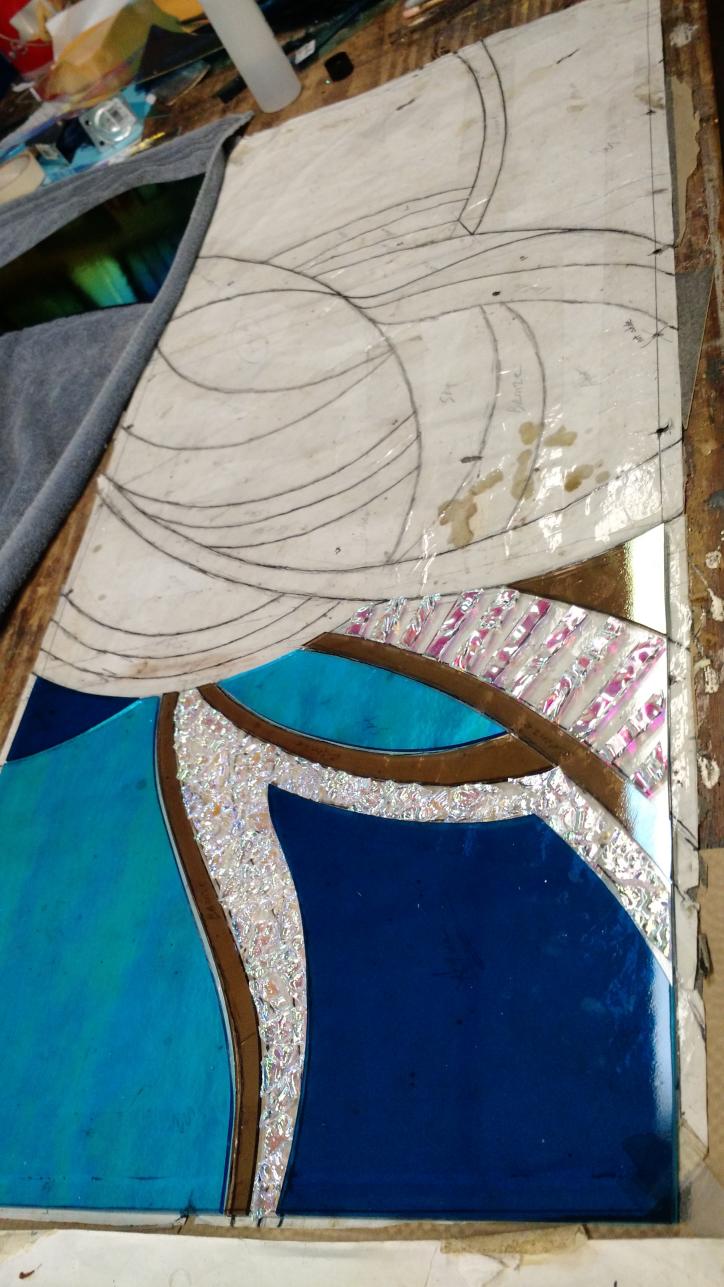 Thompson packs his art into his van and attends arts festivals across the south from Atlanta to Austin. He's invited to exclusive juried art shows that feature only the most accomplished artists. He will attend Bayou City Art Festival in Houston in October. His work frequently wins awards. Thompson won best of show at the 2015 New Orleans Jazz and Heritage Festival. Locally, he attends the Home Builders Association of Southwest Louisiana's annual show in January.
Thompson is passionate about his art and doesn't think of his profession as a job. "It's awesome to be able to do what I love to do and make a living for my family."
Two pieces of Thompson's artwork hang on the wall at La Truffe Savage restaurant on W. Bayou Pines Dr. off Lake St. For more information or to see more of Frank Thompson's work, visit his website, www.frankthompson.com.