Top 20 Best Restaurants in SWLA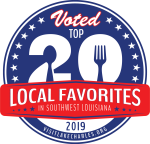 The Lake Charles/Southwest Louisiana Convention & Visitors Bureau (CVB) held the seventh annual Top 20 Restaurants online contest in honor of culinary arts and foodies who love to travel. Individuals could nominate and vote for their favorite places to eat in Calcasieu Parish. Culinary delights are a major draw for tourism, and people are passionate about food. 

In 2019, there were over 250 restaurant nominations made by the public with nearly 8,500 votes cast. Below is a list of the Best Restaurants in Lake Charles/SWLA.
NOTE: some restaurants have multiple locations; so technically, we have the Top 21 Restaurants in SWLA.
The Full Top 20 Restaurant List (alphabetical):