You don't have to be Irish to appreciate a Celtic celebration! We've rounded up Lake Charles' family events, live music, pub crawls and drink specials – whatever you're looking for this St. Patrick's Day, Lake Charles has it!
St. Patty Parties
St. Patrick's Party @ MacFarlane's Celtic Pub
Top o' the mornin' to ya! MacFarlane's Celtic Pub kicks off EARLY with their annual St. Patrick's Day Celebration at 5:30 a.m. on Saturday, March 16, with a traditional Irish breakfast of cooked meats (bacon, sausages and black and white puddings), eggs, vegetables and of course potatoes. There will plenty of beverages too. Beer and spirit connoisseurs will appreciate the full day of scheduled tastings that include beer, scotch, gin, whiskey, and vodka. Each tasting session only cost $5 or you can get a VIP pass for the whole day which includes all tastings, swag, VIP access to the bar and buffet and more.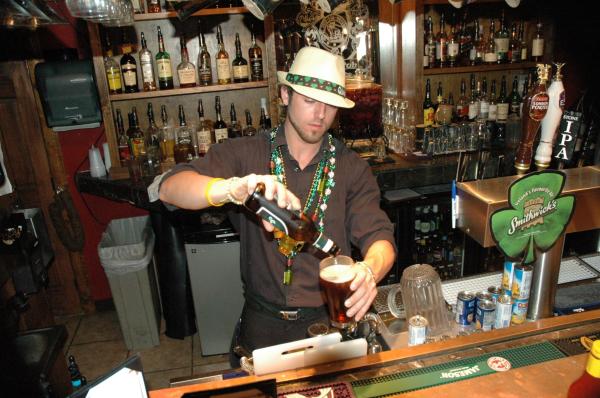 St. Patrick's Day at the Blue Martini
Get out your green for the Blue Martini St. Patrick's Day Party where everyone gets Lucky! Live music featuring The Flamethrowers and sounds provided by DJ Jose Mata will keep you partying all day.
Pub Crawls
Pub Crawl Extravaganza
3 miles in 3 hours! The Hellfighters Combat Challenge Team has put together an evening of fun – all benefiting the Southwest Louisiana Firefighter's Association. Start your shots at Rikenjaks, then follow the group to the remaining 8 bars for free shots, drink specials and the closeout party at Zephyrs.
St. Patrick's Green Hat Fun Run – Walk – Crawl
Grab your tweed, Irish flat caps or your fanciest leprechaun top hat for a run/walk/crawl with CHRISTUS St. Patrick Hospital. This Green Hat Fun run/walk/crawl is 100% family friendly with all each location several alcoholic and non-alcoholic beverages as well as appetizers. Locations include 121 Artisan Bistro, The Plaid Pig; inside the Lake Charles Transit Center, Charleston Bistro, Louisiana Mortgage Associates, and Flavin Realty.
Fitness
Beer + Pilates = A fun workout at Crying Eagle Brewing on March 16 from 10 - 11:30 AM. 
This run starts and finishes at Athlete's Corner and is a great race for the whole family. Overall winners will receive a free pair of shoes! Now that is a runner's pot o' gold!
More Events
United Way of Southwest Louisiana's Jambalaya & Pastalaya Cook-Off, Battle for the Paddle, will be a wee bit o' fun for the…
Food & Brews
For those of you who celebrate with green beer, look no further than Crying Eagle. They will be dyeing their Louisiana Lager green special for St. Patrick's Day. Don't miss the kick-off to the Crying Eagle Concert Series with Irish Folk singer Beth Patterson at 6 PM on March 16.
*Special Message: Don't Drink & Drive
Call a sober friend, bring a designated driver or Call a local cab company for a ride home. Tip: Keep cab fare in a rarely used pocket in your wallet or purse. At the end of the night when you think you don't have any money left, go to that hidden pocket -BAM! -you have money for a safe ride home. Make sure you download the Lyft app for your phone.