I know Louisiana is not the only state with drive-through frozen daiquiri establishments, although they may be more popular here than elsewhere. I'm originally from Pennsylvania. In the Keystone State, they have super strict blue laws, so until I moved to Lake Charles, I did not know it was possible to order an adult beverage at a drive-up window from the convenience of your car. Curious, I decided to do some research. I visited several area frozen daiquiri shops. 
They have some things in common such as a large tempting selection of frozen concoctions served in various sizes of large Styrofoam cups. Most have indoor seating, in addition to the drive-through window. And some have live music or karaoke on the weekends. But each is a little bit different and offer unique signature drinks.
The Daiquiri Shack is located at 2451 Ryan St.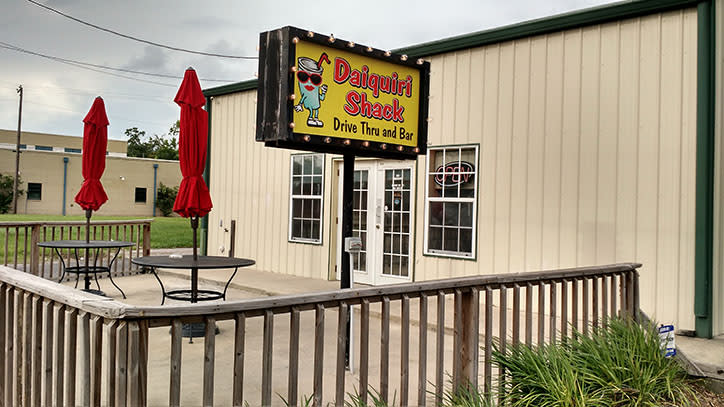 I stopped there on a Friday evening on my way to Downtown at Sundown. I pulled up to the menu sign and took a look, then drove around to the order/pick-up window on the other side of the building.
I was unsure of what to order, so the girl at the window convinced me to try one of their signature drinks. I ordered a medium "Killer." It contained Jungle Juice, 190 Octane Mix, Vodka, Rum, Everclear, and tasted like rum punch. The kind we made for parties in college.
Adding to the curiosity of frozen daiquiri stands is the legal notion of "closed container" in a moving vehicle.  As long as the tape remains across the plastic lid and the straw remains in the wrapper, you're good to go!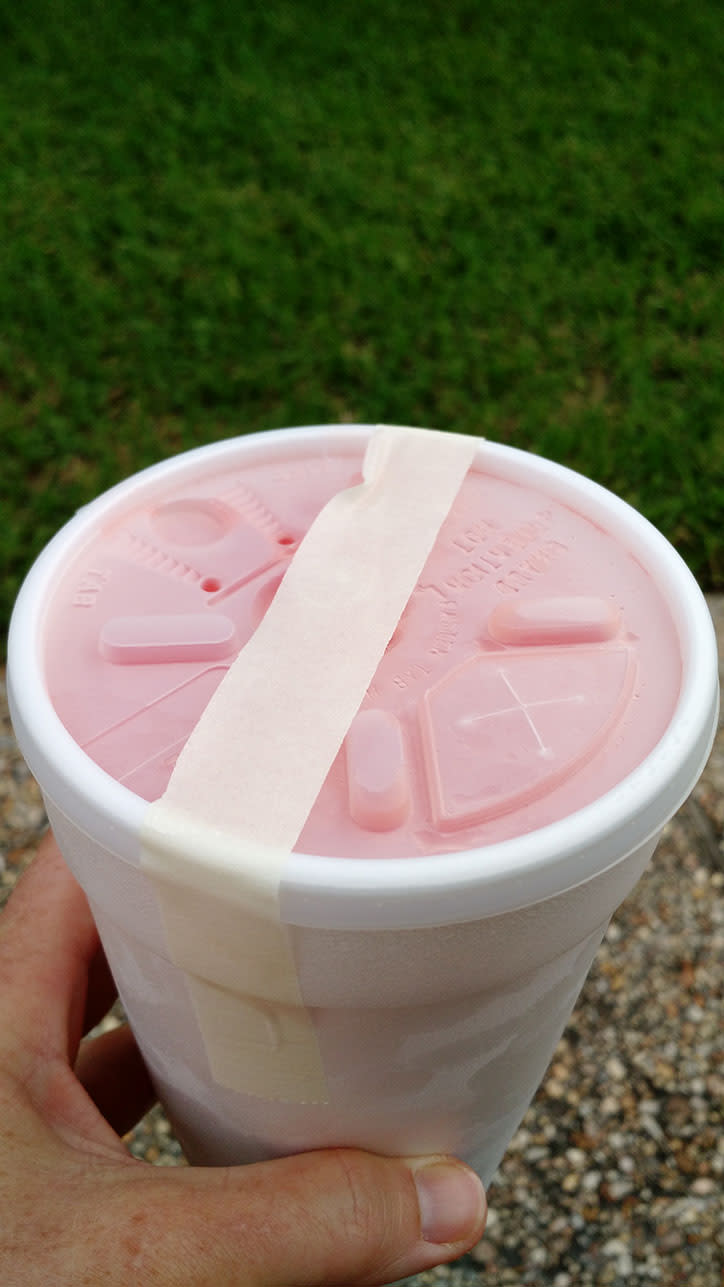 At Paradise Daiquiris, 2021 Country Club Rd., I ordered an Amaretto Sour which perfectly complimented the crawfish-to-go we had for dinner that evening.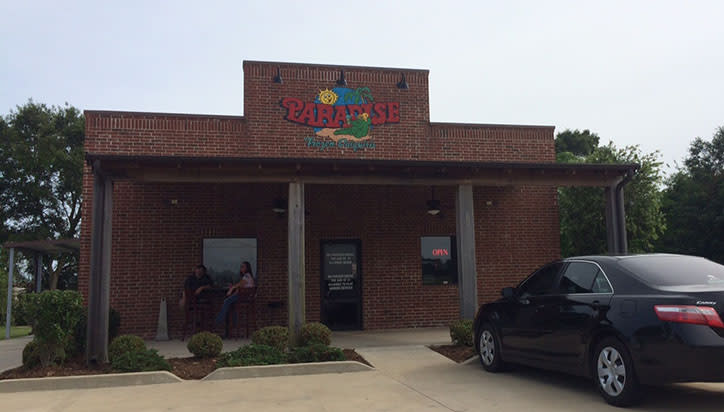 At the Funky Monkey, located at 601 E. Prien Lake Rd., I wanted to try their signature Funky Monkey drink, but their "banana machine" was down. I ordered a frozen mango margarita instead.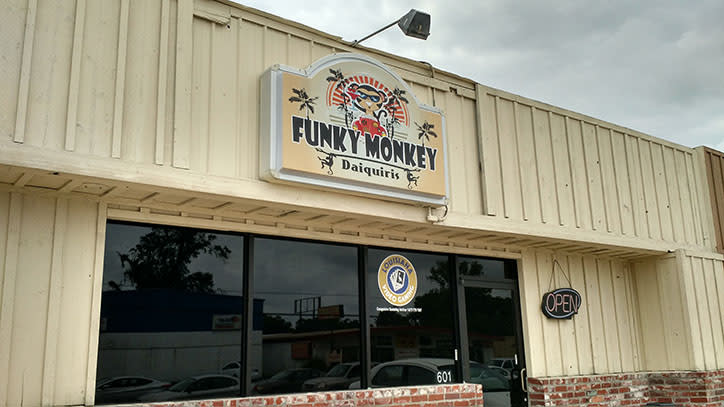 Caribbean Hut Daiquiri Bar and Grill has a small indoor bar and there's a pool table. They offer a wide variety of drinks, but don't ask what's in them. Their recipes are top secret! They're located at 4680 Common St.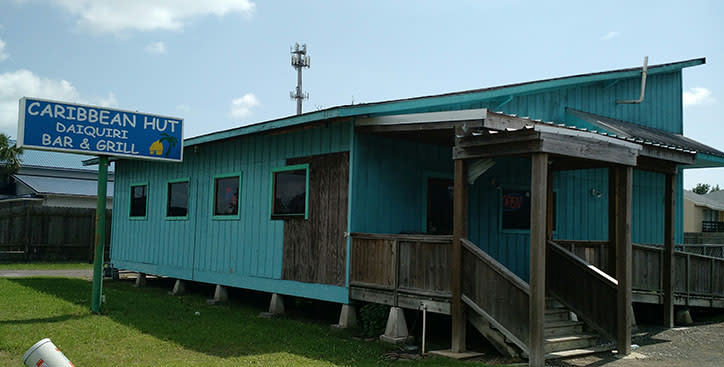 Right next door, you'll find the popular Frosty Factory.
I opted to go inside instead of the drive-through here, and the swirling frozen daiquiri dispensers made the drink decision even more difficult than reading the drive-through menu. Twenty two flavors lined the wall behind the bar.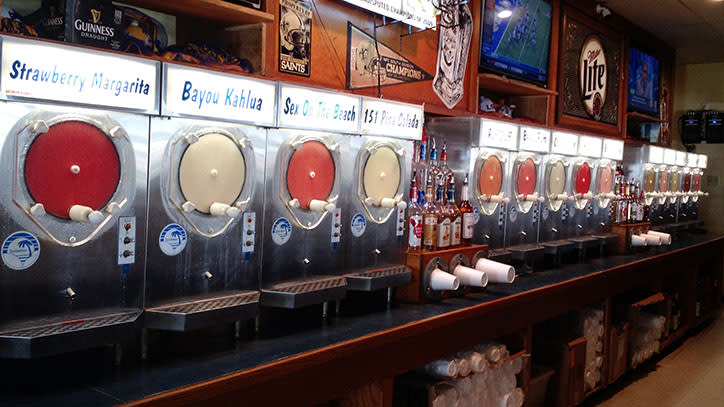 To add to the confusion, you can mix and match drink flavors, providing an endless list of possibilities. The barmaid there is very helpful and offers suggestions and samples to the uncertain, like myself. She says a drink called Monkey Shine is one of their most popular.  It tastes like a delicious banana milkshake. But I opted for a daiquiri with locally-made Bayou Rum. I'll save Monkey Shine for a future visit to the Frosty Factory.
Cheers!