If your favorite thing about the holidays is seeing all the twinkling lights, you're in luck! Southwest Louisiana has some great places to see Christmas lights, and we've decided to "spotlight" a few. Grab a cup of hot cocoa and let's go!
Before you head out, please check links for updated information due to weather or schedule changes.
1.  Lake Charles Civic Center
900 Lakeshore Dr. | Lake Charles
Enjoy the Christmas Spirit and story of the 12 Days of Christmas with thousands of festive lights along the lakefront.  
2.  Shell Beach Drive.
Lake Charles
You'll fall in love with all of the lighted oak trees and historic homes along Shell Beach.  Even better, see these lights while riding in a horse drawn carriage with J&R Carriage or Vintage Carriage Company.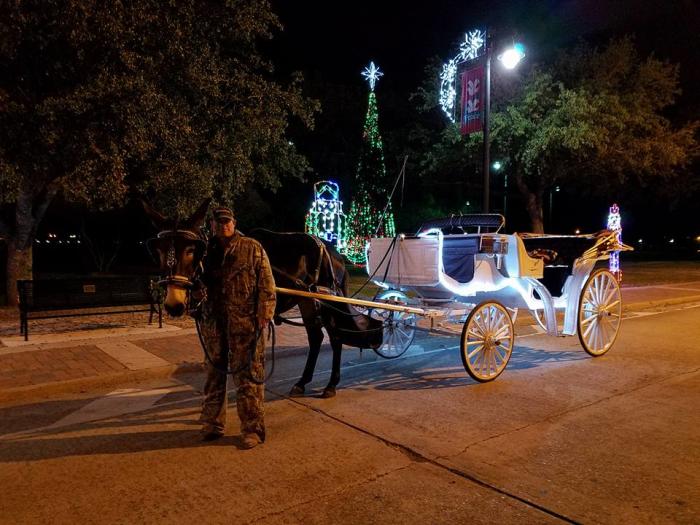 3. Prien Lake Park
3700 West Prien Lake Rd. | Lake Charles
Beautiful all year-around, Prien Lake Park truly transforms during the holiday season. The extra-large Christmas tree is the perfect backdrop for a family photo.  This display can be enjoyed from afar or up close with a stroll on park paths.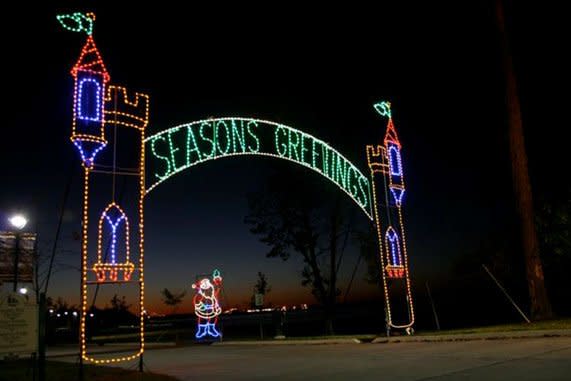 4.  Trinity Baptist Church
1800 Country Club Rd. | Lake Charles
From now until Sunday, December 25, Trinity will host "Lights" an eight minute, computerized, musical light show in the front circle drive.
5.  Christmas on the Hill
2151 Lynn Trahan Road | Sulphur
Start a new family tradition with a visit to Christmas on the Hill.  This fantastic display of lights has been running since 2006, getting bigger and better every year! Tune your car radio to 100.1 FM to hear Christmas music that synchronizes to the display. Follow their Facebook page for updates.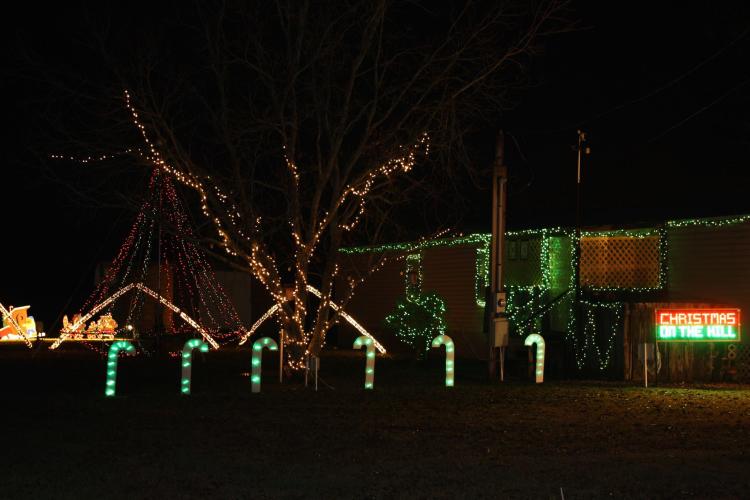 6.  Carlyss Light Show Spectacular
1372 Carl Lyons Road | Carlyss
Sing along as you view the lighted displays in a variety of seasonal themes enhanced by music. Tune to FM 93.9.
7.  Lawton Christmas Display
Choupique Road
A local favorite, the Lawton's Christmas Display is full of traditional Christmas characters. You might even get to visit with Santa Claus himself!
8.  Cruze's Christmas Light Show
2193 W. Armand St. | Moss Bluff
You'll find approximately 15,000 lights dancing at the Cruze's Christmas Light Show. Tune your car radio to 88.1 FM from 6 p.m. to 10 p.m. The show will run until December 31.
 

9.  Lake Charles Christmas Light Tour
SWLA Tours, Inc.
Sit back and relax while the "elves" from SWLA Tours, Inc. take you on Christmas Light Tour around Southwest Louisiana. You'll stay warm and toasty as you enjoy hot chocolate and marshmallows or bring along your favorite holiday "spirit." It is a party bus after all.  Private tours will run through January 9.
For a list of more Christmas displays, click here.  
Source: www.kplctv.com