In 1999, George Rodrigue owned a gallery in Carmel, California and one in New Orleans, but he didn't have a place in his hometown of Lafayette where people could see his art and experience Cajun food and culture. "That was the genesis of Blue Dog Café," said Steve Santillo, owner of this beloved restaurant, along with Rodrigue's two sons. "George provided the art and the interior design, but he didn't want to own the restaurant. He just wanted people to be able to see his work."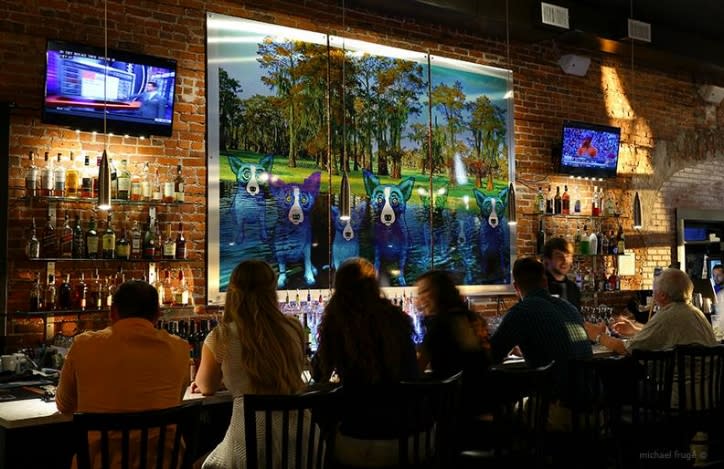 After 17 years in the Lafayette location, Santillo decided to branch out and share Blue Dog Café with Lake Charles. They opened in December 2015. Like the original establishment to the east, Blue Dog Café in Lake Charles is known for its food, music, and of course, Rodrigue's iconic Blue Dog paintings. Several dozen colorful, quirky, digital reproductions adorn the vintage brick walls of this bustling business.
The Blue Dog Café menu combines Cajun classics such as gumbo, crawfish étouffée, and fried seafood platters, with new Cajun Fusion recipes like crawfish enchiladas with a cumin mornay sauce or seafood wontons with a plum ginger sauce.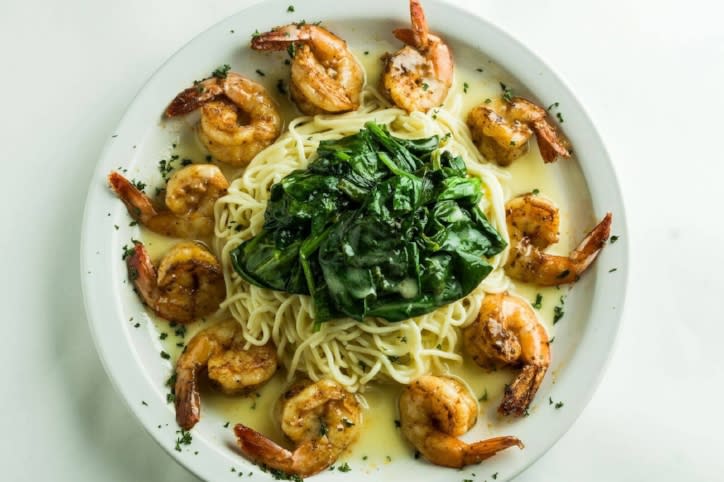 Blue Dog Café offers live musical entertainment Thursday, Friday and Saturday evenings, 7-10 p.m., and for Sunday brunch 11 a.m.-noon. "We're all about variety here," said Santillo. "We hire all local performers, and while many become regulars, the schedule is variable. On Sundays, it's not a jazz brunch. It's a live music brunch. We mix it up and it's always interesting."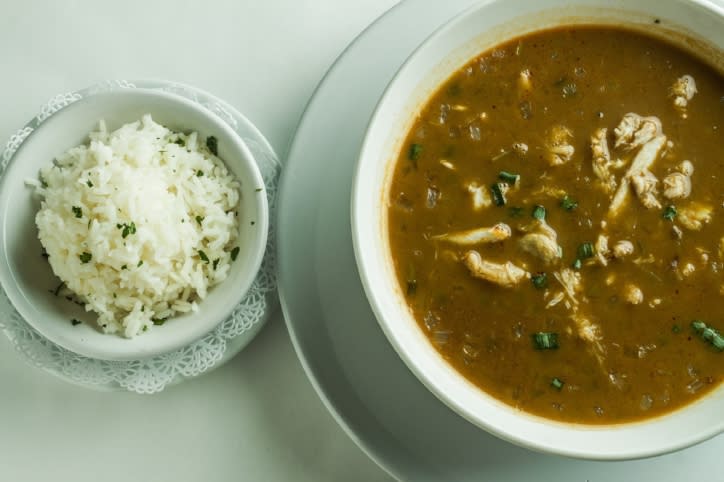 While certainly Santillo strives to satisfy and entertain his patrons, he is also concerned about the community. Blue Dog Café supports the George Rodrigue Foundation for the Arts. They sponsor a program called A++ Schools, which promotes art education in schools. "They just took on their 18th school in the program which happens to be Lake Charles Charter Academy." Santillo also supports and works with local museums, the Arts & Humanities Council of Southwest Louisiana, and other non-profits. "We try to get involved with the events sponsored by the local charities by donating our food and our time."
Santillo and his staff are pleased to have become a part of the downtown Lake Charles neighborhood. He says, "The hospitality we've received from the Lake Charles community has been amazing."
Open for lunch and dinner Monday – Saturday and a live music brunch on Sundays, 10:30 a.m. to 2 p.m., 609 Ryan St.