Depending on how close you are to a Cajun or Creole restaurant in Southwest Louisiana, you can literally smell the spices in the air. Also, being near the Gulf of Mexico, the seafood served in many local restaurants is fresh off the hook and onto your plate. Below are some of the hot spots to get a taste of local Cajun or Creole cuisine!
One of the places to get fresh seafood and Cajun cooking is Seafood Palace in Lake Charles. It's a casual restaurant with red and white checkered tablecloths where you can unwind with friends and enjoy nature's bounty including shrimp, boiled crabs, alligator bites, poboys, crawfish and more!
A Creole staple is Famous Foods, and if you go there, you have to try the cracklins that come in varying degrees of spiciness, but the same level of scrumptiousness! Plate lunches are made to order, and Famous Foods also serves up melt-in-your-mouth brisket, barbecue, flavorful baked beans, boudin, and all the "fixin's."
@visitlakecharles Guillory's Famous Foods is a family-owned Creole restaurant in Lake Charles, known for their Soft and Spicy Cracklins🔥😋Darby Guillory Jr. and his family make their own sausage and boudin sold fresh or frozen ready to take home! Their plate lunches feature your choice of brisket, ribs, pork steak, sausage, hot link, pulled pork, and chicken with traditional Creole sides like rice dressing and potato salad. They also sell turkey wings, beef jerky, barbecue sandwiches, seasonings, barbecue sauce, and cookware! 🍗Famous Foods and the Guillory family won't let you leave hungry! Don't forget your bag of cracklins to go 😉📍 1475 Gertsner Memorial Dr, Lake Charles#VisitLakeCharles #LouisianasPlayground #lakecharles #creole #creolefood #cracklins #gumbo #louisianacheck #louisiana ♬ Louisiana Summertime - Rusty Metoyer & The Zydeco Krush
Another local favorite place to get Cajun fare is Steamboat Bill's. As the story goes, Kathy Vidrine, started selling shrimp on the side of the road, and eventually grew her own following and opened her restaurant which became the number one restaurant as voted by the locals for several years as well as notoriety in the media. Steamboat Bill's is also a popular spot during crawfish season!
Plate lunches and live music? BeauxDines' Seafood & Specialty Meat Market is a winning combination. Conveniently located on the main route of Ryan Street in Lake Charles, you can find burgers, oysters, baked potatoes, seafood dinners, and crawfish when in season. Appetizers hit the spot too with jacked up fries, stuffed pistolettes, boudin and sausage.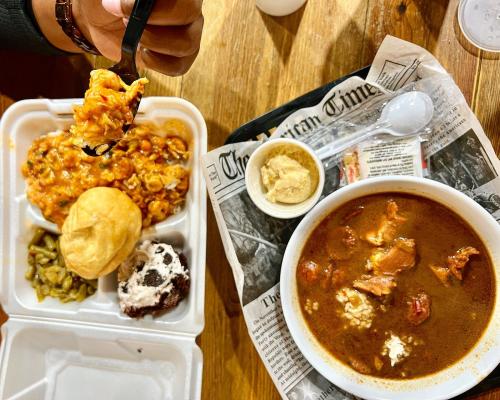 If you are seeking out Creole deliciousness, look no further than Leonard' Food Quarters in Lake Charles for a taste of Southwest Louisiana's Creole soul food! Here, you can dig into a shrimp po-boy, red beans and rice, smothered steak with rice and gravy, or chicken and sausage gumbo to satisfy your appetite.
@visitlakecharles What makes Leonard's Food Quarters so special? It's the mixture of Cajun & Creole foods with a touch of soul. 😋🤤Leonard's Food Quarters has been open in Lake Charles since 1986. After working for almost 30 years for someone else, Leonard wanted to build a legacy for his children and future generations. Today, the popular dishes found at Leonard's include red beans and rice, seafood platter, shrimp poboy, smothered steak, boudin, cracklins, rice dressing, and boudin balls!😍📍 1708 Gerstner Memorial Dr, Lake Charles#VisitLakeCharles #LouisianasPlayground #LeonardsFoodQuarters #soulfood #creolefood #cajunfood #foodie #louisiana #louisianafood #cajun #creole #soul #travel #roadtrip #food #foodtravel #platelunch #boudin #boudinballs #poboy #seafood ♬ I Got Loaded - Keith Frank & The Soileau Zydeco Band
LeBleu's Landing Restaurant & Oyster Bar, just west of Lake Charles in Sulphur, has deep roots in Southwest Louisiana's history involving founders and tales of pirate folklore! Along with that history comes centuries of recipes and deliciousness that everyone can enjoy from Cajun gumbo and bisque selections to signature boudin, seafood dishes, oysters, and award-winning bacon-wrapped boudin!
Hollier's Cajun Kitchen is family-owned tradition in Sulphur that has been household name in Southwest Louisiana since 1995 with 1980 being the origins with the Hollier family inspecting and wholesaling boudin, sausage, jambalaya, and seasonings and more. When you're there, you can take a photo on a giant rocking chair too - preserve those memories!
@visitlakecharles Hollier's Cajun Kitchen is a family-owned restaurant in Sulphur since 1995! Located right off I-10, they serve authentic Cajun cuisine such as crawfish pistolettes, fried alligator, gumbo, boudin, fried green tomatoes, poboys, boudin burgers, crawfish étouffée, seafood platters, catfish, oysters, frog legs, and more! 🦞🦪🍤Hollier's has become well known for Wednesday's BBQ lunch, which is referred to as BMW (Big Meat Wednesday). It's all you can eat chicken, sausage, pork steak, pork ribs, rice dressing, beans and potato salad. 🥩 Ca C'est Bon! 😍😋📍 1709 Ruth St, Sulphur#LouisianasPlayground #SulphurLa #VisitLakeCharles #cajunfood #foodie #louisiana #louisianafood #cajun #travel #boudin #roadtrip #poboy #gumbo #alligator #etouffee #crawfish #gator #seafood #oyster ♬ Pine Leaf Boy Two-Step - Pine Leaf Boys
Aptly named Insane Sausages, Derek Gaspard's sausage and food creations are super creative - and maybe a wee bit insane! Insane Sausages is located in Vinton, west of Sulphur. It features award-wining boudin, and it's the perfect stop to satisfy your appetite, especially when you're starving. From pork sausage poboys to chili cheese dog po-boys to boudin sliders, no one is going hungry!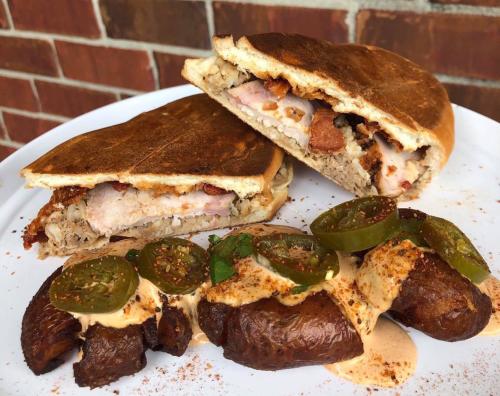 East of Lake Charles is In-Law's Cajun Specialties in Iowa, (pronounced "eye-oh-way.") Catering to the Cajun-on-the-geaux, In-Laws provides a wide variety of Cajun specialties cooked fresh to take with you to a park or picnic spot – or packaged for cooking. Here, you can get boudin, cracklins, sausage, barbecue, specialty meats – or all of the above.
@visitlakecharles The perfect stop right off I-10 in Iowa, LA! Take your pick from boudin links, crawfish or pepper jack boudin balls, fried ribs, fried pork chops, pepper jack boudin rolls, pork or chicken cracklin, sausage link, or smoked brisket! They even have freezers loaded with gumbo, sausage, boudin, brisket, filet, stuffed chicken breasts, pork chops stuffed with boudin, baby back pork ribs, deer sausage, jambalaya, and so much more! 📍 1121 Lowe-Grout Road, LA-383, Iowa, LA 70647 #VisitLakeCharles #LouisianasPlayground #louisiana #louisianacheck #louisianatiktok #louisianasaturdaynight #cajun #cajuntiktok #cajuncooking #cajunfood #cajuncrawfish #boudin #boudinballs #gumbo #jambalaya #sausage #foodie #food #foodtiktok #foodlover #lakecharles #lakecharleslouisiana #lakecharlesla #travel #traveltiktok #travellife #travelbucketlist ♬ Casanova - Keith Frank and the Soileau Zydeco Band
Also, in the quaint town of Iowa, you can find Rabideaux's Sausage Kitchen, filled with specialty meat products and, you guessed it – boudin! This cute and rustic Cajun deli features meats, sausage, boudin, cracklins, hamburgers, poboys and more. Pro Tip: Rabideaux's ships boudin out of town if you need more once you return home. 
There are other places to indulge in Cajun and Creole goodness too, so be sure to check out Cajun/Creole restaurants in Southwest Louisiana for more selections!
Here's some Lagniappe for you or "a little something extra." 
Check out Cajun & Creole seasonings in the kitchen exhibit at Creole Nature Trail Adventure Point.