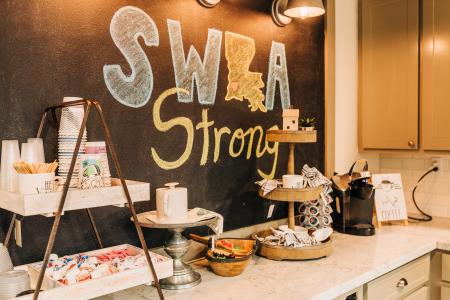 If you're looking for some inspiration to transform your home, recently refurbished home or business, (umm…thank you, Laura), do we have a recommendation for you! My coworker, Kathryn, and I were encouraged to pay a visit to Changing Spaces since so many people are looking for furniture and décor these days. More than 6 months since the 2020 hurricane season rocked Southwest Louisiana, many homes and businesses that were damaged lost furniture and those special touches that make a house seem like a home. You know - the artwork, rugs, curtains and light fixtures - oh yeah, and furniture! (Having furniture is definitely a plus!) Many people are now starting to be able to move back into their homes and start fresh.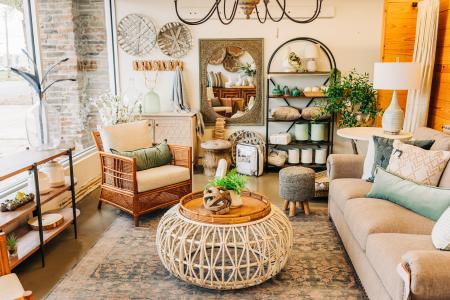 Malerie Parker, manager at Changing Spaces, explained that post-hurricanes, sales are starting to ramp back up. Due to ripple effects of the pandemic, many orders can take a while. However, with the majority of their floor inventory available, customers can get trendy furniture and décor all locally with delivery options. So, if you like what you see at Changing Spaces, you can purchase right then and there and have it delivered. Sounds like magic these days!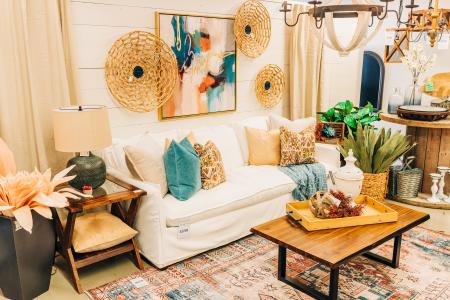 My coworker and I were wowed by the pockets of tasteful, decorative spaces created throughout the store. I saw Kathryn's eyes light up and sparkle when she first walked into the store, and her jaw dropped a little too! She absolutely loved it and said she immediately wanted to redo her entire house.
Malerie laughed and said, "Many customers describe Changing Spaces as walking into Pinterest!" (I agree!) She continued, "What sets us apart is that we pride ourselves in having up-to-date looks and trendy styles."
Dedicated Interior Decorators 
One thing that I really want to stress is that Changing Spaces is more than a place to purchase furniture and décor. They have interior decorators that work non-stop at helping customers create their home environments from picking out paint using Sherwin Williams and Benjamin Moore to tastefully selecting furniture, rugs, lighting curtains and the works! This can range from staging a home that homeowners would like to sell to remodeling or redecorating spaces within homes.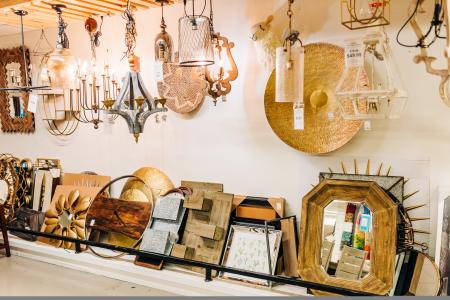 Let there be Light!
There is a wide variety of lighting fixtures and chandeliers available too. Malerie said that they have lighting packages for people who build spec homes or discounts for contractors. Thankfully, rugs and lighting are not hard to come by if people need to special order. Depending on if it's in stock, it might take 1-3 weeks for the items to arrive.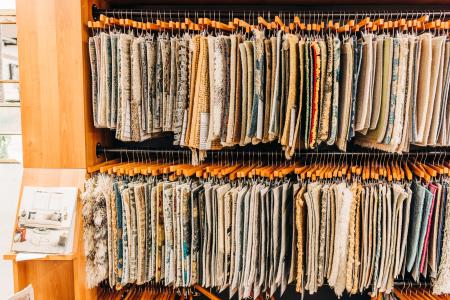 Local Furniture Builders and Artists!
As far as local furniture builders, they are open to working with you! They have worked with woodworkers and artists in the past, and if someone is looking for something custom, they would love to work with locals. Malerie said that one artist that came to mind is Sandra Walkin with her cypress furniture that she has had on display in the past. With so many people needing to revamp with furniture, please be sure to reach out if you have inventory or are a furniture builder or artist!
Did You Know?
Some of the local, public spaces that Changing Spaces has decorated include the lobby of Erdace apartments as well as the St. Jude Dream Home project every year dating back to 2018. I didn't realize this, but there are tours available with all the furniture on display for sale during the St. Jude Dream House showings. Changing Spaces picks out everything from the paint colors on walls and cabinets to the lighting fixtures, rugs and furniture. Check out the 3D Tour! They are also currently in the process of working with Fire & Oak to create a unique look for one of Lake Charles' newest restaurants!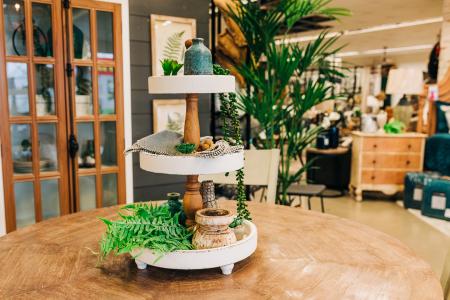 Check out Changing Spaces for inspiration! 
Visit www.changingspacesfurniture.com or www.Facebook.com/ChangingSpacesLakeCharles or call 337-313-0444. 
Photos by Kathryn Shea Duncan, Visit Lake Charles