The past year has been a challenge for venue and event managers. I was able to catch up with Ashley Gatte, president of Empire of the Seed, which encompasses several popular venues in downtown Lake Charles: The Calcasieu Marine Bank Building, the Paramount Room, and Cash & Carry. I wanted to get her firsthand account of managing venues during a pandemic and also - following the active and powerful hurricane season of 2020. She recently posted a photo of grand chandeliers being hung inside the Cash & Carry building, and it just seemed profoundly symbolic of new hope as the community recovers. Here's a little insight into her journey with the Empire of the Seed!
Q&A with Ashley Gatte, president of Empire of the Seed.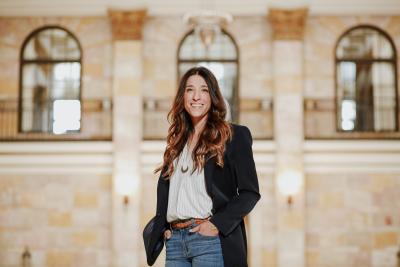 -Photo by Chris Brennan-
Q: What has it been like for you over the past year - managing event properties during a pandemic for Empire of the Seed both personally and professionally?
A: Phew. What a question. It's been tough to process to be honest. I think we all have tried to find the balance of keeping our guests and community safe, while also keeping the business alive.  From a personal perspective, I have been saddened for brides who had planned on their wedding day for many months, only to be deterred be the pandemic.  It was tough to hear the disappointment in their voices. In some other sense, it was nice to be reminded of how much our venues meant to brides. I often would experience their willingness to postpone and reconfigure their original plan/date just so they could use our venues, as well as the local vendors who had been working alongside them the whole time.
From a professional perspective, I think this year was super valuable because it taught us how to adapt and be innovative. We figured out ways to use technology and live stream options to keep folks safe, while still enjoying their wedding experience. It also taught me a good amount of resilience. Keep going. Keep treating people with respect and decency. 
Q: Did you ever in your wildest dreams think that a storm like Hurricane Laura would be so powerful in its impact?
A: I don't think the reality of Laura really sunk in until it was actually happening. I have lived in SWLA my whole life and have never experienced something like this.  Heartbreaking. Even watching the press coverage the night of the storm felt very surreal. It doesn't truly hit home until you drive through the city. Then, in an instant, it becomes strikingly real. 
Q: What ran through your mind in the days leading up to and following the storm?
A: I think I was in a bit of denial days leading up to the storm. We didn't actually evacuate until the day before the storm. Following the storm, after I got over the initial shock, I just tried to take it one day at time. I tried to focus on the things I could do in the present. Today, I can help my friends and community rebuild. Today, I can work with a bride and try to comfort her and update her on building repairs. Today, I can volunteer at church. Today, I can check in on my parents. Today, I can't solve all the problems, but I can do something good.
Q: What was your impression, first emotions and thoughts whenever you realized the impact of Hurricane Laura?
A: After my initial shock, my first thought was "it's going to be a very long road back." While we were able to get our personal home and work situation back to normal pretty quickly (repair wise), I knew the city would not look the same any time soon. But there is hope! There always is. I guess with each business comeback I see, or with each new tree or flower planted, I am thankful. We are resilient.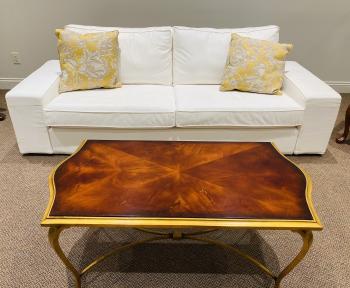 -Bridal Suite Couch-
Q: What have you and the employees of Empire of the Seed been doing to recover?
A: Recovery for us has been smooth. We are lucky. Our buildings definitely experienced some damage, but we were able to get construction crews in VERY quickly, and get our venues looking good as new by the beginning of November. Thankfully, this allowed us to host weddings that were planned that month. Plus, it allowed me to share some good news to our brides in this crazy time … "the venue looks great, come get married!" It was awesome to hear the relief in their voices.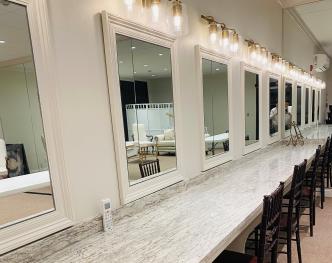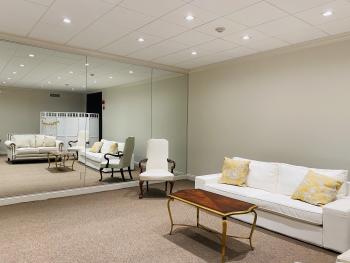 -Newly remodeled bridal suite-
Q: Did all the properties have damage? If so, which ones and how extensive?
A:  We had roof damage at Cash & Carry, and the kitchen got torn up pretty badly. The Calcasieu Marine Bank had some roof damage, pretty substantial courtyard damage, and the rotunda space require a complete gutting and makeover. Thankfully, the Paramount Room managed to be relatively unscathed during the storm.
Q: How did it feel to hand those magnificent chandeliers inside the Cash & Carry?
A: Wow! I love them! These grand pieces mean so much more to me than an aesthetic update. For me, they represent a new chapter, a chance to rebuild, hope for the future, and a display of resilience that our community possesses . It's like our own little way of saying, we were down - but not out. Now watch us build back - better than ever. Onward and upward SWLA!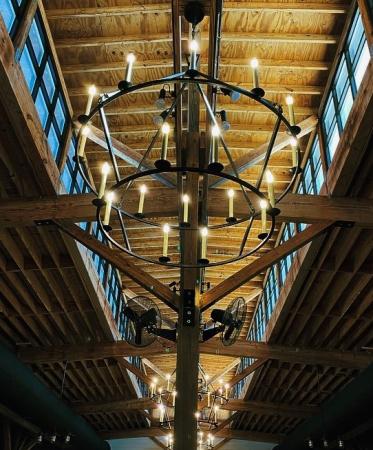 -Chandeliers at Cash & Carry-
Q: What keeps you going every day?
A: My faith and my family!
Q: If you had a mantra that you say to yourself everyday - what would it be?
A: If you can be anything, be KIND!
Q: How do you find inspiration during difficult times? What do you lean into that brings you joy?
A: I love a good comeback story. Whether it be in business, sport, or life in general, I love to see the underdog come back and overcome.  Right now, I feel like our city is writing its own story. It isn't over yet, we still have a few more chapters to go. We are learning what it takes to make a comeback. We are training and preparing. We are processing and learning.  But at the end of our story, I am confident we will be a stronger, better SWLA. For joy, my faith in God and my wonderful family and friends provide a never ending source.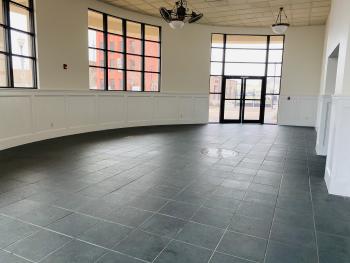 -Newly remodeled rotunda at the Calcasieu Marine Band Building-

Final thoughts from Ashley:
Empire of the Seed is currently taking bookings and operating like normal! Our venues look fabulous, and we have some exciting things on the horizon. Recent updates include: Chandeliers at the Cash & Carry, a new bridal suite at Cash & Carry & newly remodeled rotunda and bridal suite at the Calcasieu Marine Bank. One very exciting upgrade is an outdoor space at the Cash & Carry! Plans are still in the beginning stages, but we are working on this! VERY excited about this development. Check out our Instagram @empireoftheseed! Also, we are on FB, and our website is www.empireoftheseed.com! Call 337-310-0405 or email me at ashley@empireoftheseed.com to book.