Experiencing Memories with Curio-ddities
Whimsical displays of odds and ends create a narrative journey at Curio-ddities. The themed nooks and colorful displays truly transport you to experience another's dreams, nightmares and memories. Have you ever held your grandmother's necklace, watched a music box ballerina spin that belonged to someone else or peered into an antique silver mirror to dream of another time? The Curio-ddities exhibit is much like that goose-bump feeling when you hold something of significance that belonged to another person.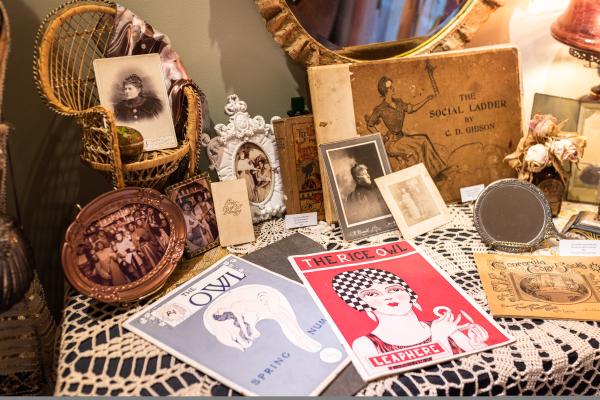 The love and/or emotional ties that are shown to lived-in objects almost has a palpable presence in the exhibit space created by Kat Godsey and Thom Trahan at the Henning Cultural Center, with co-curator Ashley Royer. The exhibit space itself is inside of an early 20th century home built in 1904, which is perfect for the idea of bringing together art, objects and creating vignettes within the gallery as a collection of art and items both weird and wonderful.
"It's a glimpse into other people's reality and life. Someone else's memories that are attached to objects. These treasures become part of a greater context once you know those stories," said Godsey, assistant director at the Brimstone Historical Society.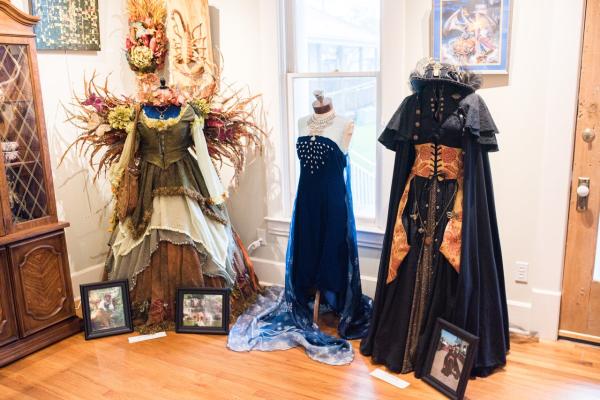 The Foyer is the first of the art vignettes that patrons experience with magical costumes and characters coming to life. It's a visit to the renaissance festival in spirit with a 3D approach to the grand entrance. Moving into the Grand Gallery, to the left, I was immediately struck by the "apothecary theme." With Hurricane Laura destroying the Brimstone Museum Railroad Depot, some of the historic relics were salvaged and able to be on display from old dental tools to medicine vials.
Meet Zeladora Vidal E'Creufet - Mystical Creature:
More of a nightmarish creature, Zeladora Vidal E'Creufet which looks mainly like a goose, is a mystical bird, dedicated to guarding the nightmares of 2020-2021 from the hurricanes to the pandemic and winter storm. She guards these nightmares in tiny medicine vials with corks, and she is made of driftwood, seashells, and items from the beaches of Cameron Parish. Created by Lisa Reed with Flock of Five, this is the type of outlandishly creative concept that is in store for art lovers.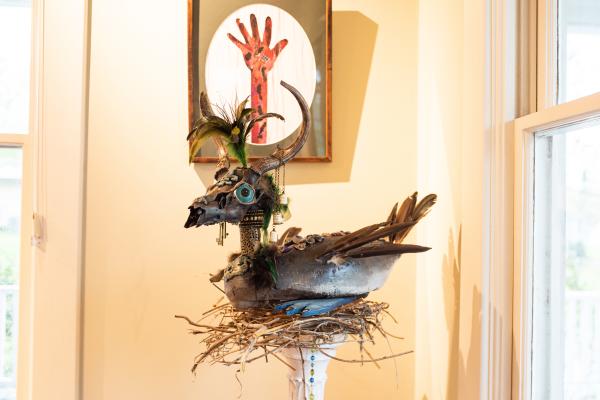 The Conservatory is the room that dives into under-the-sea elements, magical creatures, fairies, elves and all things mystical. One of the stunning pieces in this room is a staff that is made with shells. I can almost see a mermaid holding the staff in the deepest parts of the ocean.  (But, you have to go to the exhibit to see it!)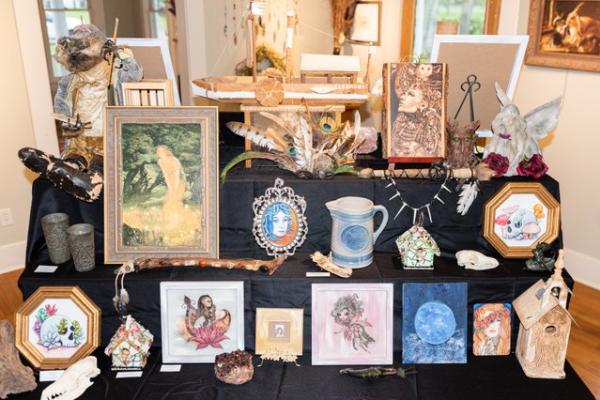 Upstairs, explores more of the nightmare side of the show with the Under the Big Top – circus room! Eek! Yet, who can resist Miss Piggy as Zoltar? Moving past that room into The Atrium, you truly feel transported into outer space with an Excalibur flair. Then, The Inner Sanctum definitely has an "attic" appeal to me. It's as if there is a childhood bedroom that is transported to meet treasures in an attic – where you can imagine someone playing in their grandma's finery – wearing a glittery sequined gown with her best jewels and furs.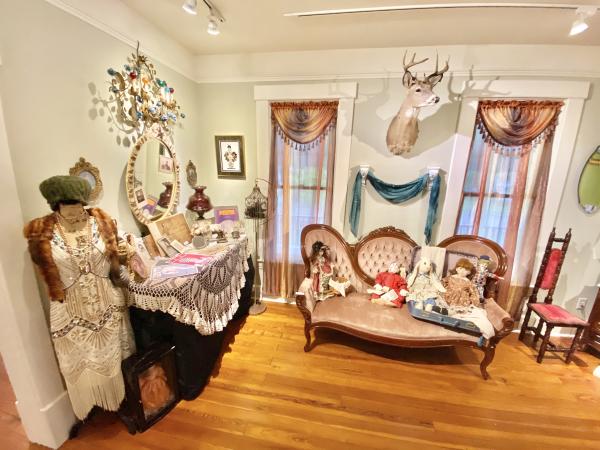 The gallery is one of the only spaces to see an art show in the area with the other museums currently under construction due to the 2020 hurricane season. The museum had many woes of its own with the over 100-year-old Brimstone Museum Railroad Depot that was destroyed by Hurricanes Laura and Delta. Part of the building was salvaged and signed by the builder, S. Nashmore, in 1915, is on display in this exhibit on the downstairs level in the Grand Gallery.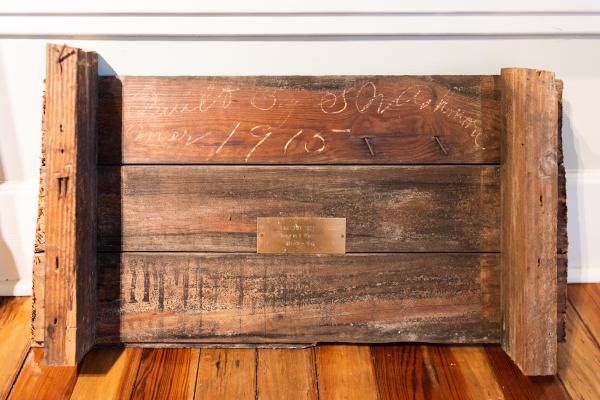 "Having been with the Brimstone Museum for 15 years, the train depot building itself was alive to me in many ways along with the history that lived in those walls. That building had its own personality, and it hurt to see it torn down. But, we do have exciting plans for the future," said Trahan, executive director at the Brimstone Historical Society.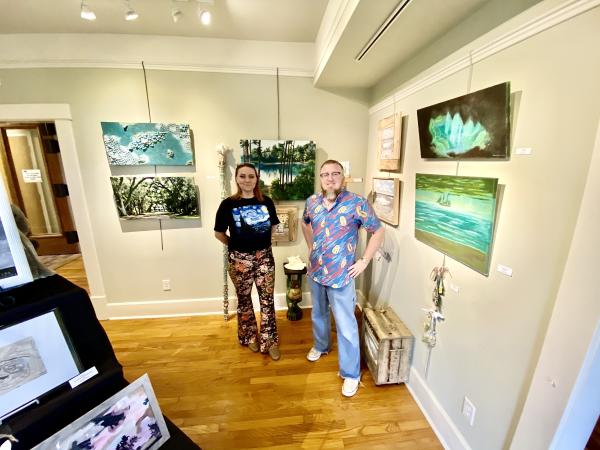 Kat Godsey, Assistant Director and Thom Trahan, Executive Director 
The Brimstone Historical Society has plans to rebuild the Brimstone Museum with more functionality in mind – not hemmed into recreating the structure. The idea is to have traveling exhibits, space for field trips, art classes, history lessons and programming. Hang on to your hat for more news once plans are more solidified!
Presented by the Henning Cultural Center and Brimstone Museum – with Sulphur Parks & Recreation – on display through May 8: Monday – Friday 10 a.m. – noon & 1 – 5 p.m. Saturday, 10 a.m. – 2 p.m.
Follow the Henning Cultural Center on social media or contact Thom or Kat at (337) 527-0357.

Photos: by Kathryn Shea Duncan, VLC
Thumbnail Art featured in the cover photo: "You Can Take it With You" by Adam Walker Manuel
Featured Contributors and Artists:
Contributors: LeShai Brown (Polished Peasant) / The Monks Family / Natalie Lawton / Roxie Lanthier / Lucy Clark Royer / Jennifer Reeser / Alexandra Lei Spears / Jody Taylor / Thom Trahan / The Brimstone Historical Society

Artists: Morgan Allain (The Inkling Girl) / Sarah Rose Bercier (Sarah Rose Studios) / Mattie Borel / Sandra Boudreaux (Lady Mercuria) / Faith Broussard / Leah Burklow / Caleb Comeaux (The Arbored Hidesman) / Dr. Cooper / Sollette Doucet / Bill Elliott / Jessica Firmin / Ashley Gates / Kat Godsey / Melissa Hebert / Amie Herbert / Anna Leblanc (The Whimsical Banana) / Edward Leblanc / Kayla Louviere / Janice Little / Adam Walker Manuel / Lucille Miller / Ken Miller / Rei Miller / Jengi Miller / Jock McGregor / Devin Morgan / Chuck Morgue / Marielle Myers (Bayou Pottery) / Malcolm O'Brien / Susan Onysko / Emily Elizabeth Parker / John Peters / Lisa Reed (Flock of Five) / Jason Reeser / Ashley Royer / Wren Royer / Skylar Saunders / Ken Stine / R. Vale / Sydney Thomas / Heather Regan White / Damian Willis / Hannah Wyninger