What's cooking at the Blue Dog Café in downtown Lake Charles? Plenty. There's a new chef, a new menu and a new vibe at the Ryan St. eatery.
Chef Ryan Trahan is a Eunice native who brings his vast experience and love of local food to the Blue Dog kitchen. Recently crowned 2018 King of Louisiana Seafood, he's excited about teaming up with the Rodrigue family.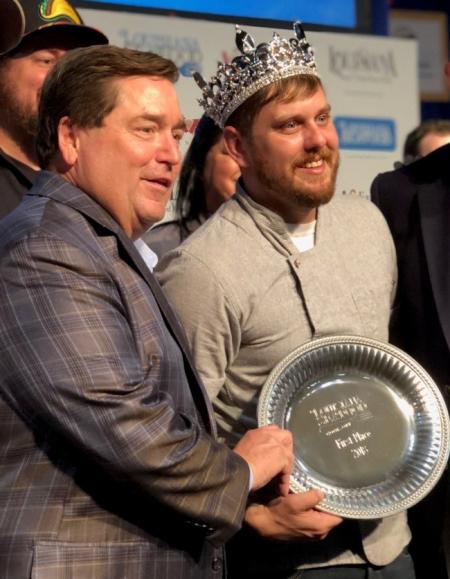 Left to Right: Louisiana Lt. Governor Billy Nungesser and Chef Ryan Trahan
"Blue Dog is a tradition and a landmark, and it intrigued me greatly to be able to help preserve and add to the restaurant and to George's legacy," he says. "I'm honored to be able to share this journey with them."
The new menu boasts starters such as pork fat fried catfish, deviled eggs, pork belly cracklins, and marinated crab claws. Entrees such as crawfish enchiladas, blackened redfish, and the fried Gulf seafood platter are downright mouthwatering.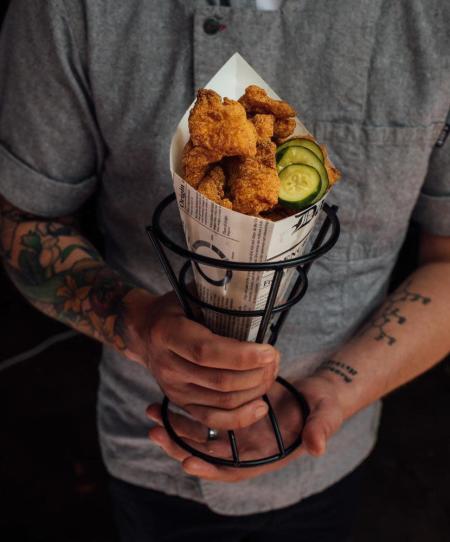 "We are going to have a few new dishes coming soon, and I will say that I think the pan-seared grouper will vastly become a Blue Dog staple," Trahan says. "I can't wait for it to drop so that people can experience it."
"Guests really love our new fresh approach to modernized Cajun cooking," says Jacques Rodrigue, co-owner and son of artist George Rodrigue. "It can be a bit shocking to see some old favorites gone.  However, once people try Ryan's new dishes, they'll appreciate the quality of the local and never frozen ingredients that we use now.  Overall, we could not be happier with how guests are loving our new inventive approach."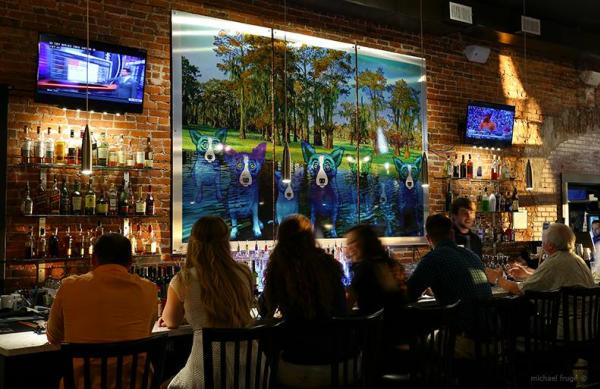 Head to the bar and enjoy special cocktails crafted by Trahan and the bartenders.  "Just like our new dining menu, our cocktails include as many fresh and local ingredients as possible," Rodrigue says.
The Blue Dog recently held a sold-out wine tasting, and there are more events to come. "We are working on more wine tastings, as well as wine-paired multi-coursed meals," Rodrigue explains.  "But, we are most excited about our Zydeco Lunch Series. Every Saturday from 11 a.m. – 2 p.m., we will showcase a different local Zydeco band." See upcoming events.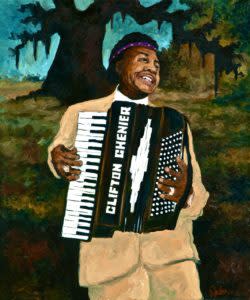 George Rodrigue was a cultural ambassador, and the family is excited that they can continue his legacy by celebrating all of the things he loved about Louisiana. "We hope that our guests leave us understanding more about who George was as an artist and why our Cajun culture deserves to be celebrated," says Jacques Rodrigue.
Blue Dog Café
609 Ryan St., Lake Charles
(337) 491-8880
Hours:
Wed.-Thurs. 11 a.m.- 9 p.m.
Fri.-Sat. 11 a.m. -10 a.m.
Sunday Brunch 10:30 a.m. – 2 p.m.
Closed Mon.-Tues.