It's the little things that endear Lake Charles to me. For example, the little mom and pop joints that dot the urban landscape have intrigued me since I moved to southwest Louisiana in 2007. Donut shops, boiled crawfish huts and drive through daiquiri shacks. And snowball stands!
Snowballs were a novelty to me when I first moved to Louisiana. Sure, I grew up with snow cones – crushed ice in a paper cone and covered with a limited number of colorful sticky syrups that invariably leaked out the bottom of the cone and made a mess. These were standard fare at festivals and carnivals. But Louisiana snowballs are different. This ice is finely ground into a dense texture that holds onto the syrup better, molded into a cone shape, and served in a Styrofoam cup with a dizzying variety of flavors to choose from.
My fascination with snowball stands has led me to visit quite a number of these local establishments. In Westlake, there's the appropriately named Mom and Pop's. I tried their red velvet flavor.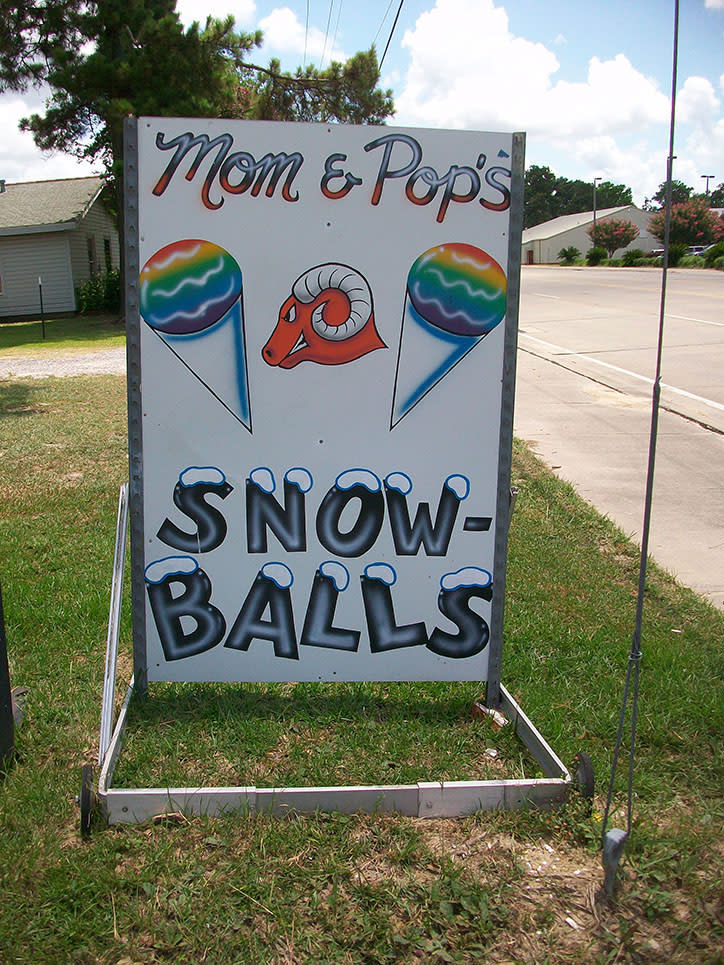 Mom and Pop supervise and read the paper in the shop. They have owned and operated their snow cone stand for 20 years.
In Lake Charles, there's the popular Mr. Snow. This time of year, their drive through line extends a block or more down McNeese St. after school lets out.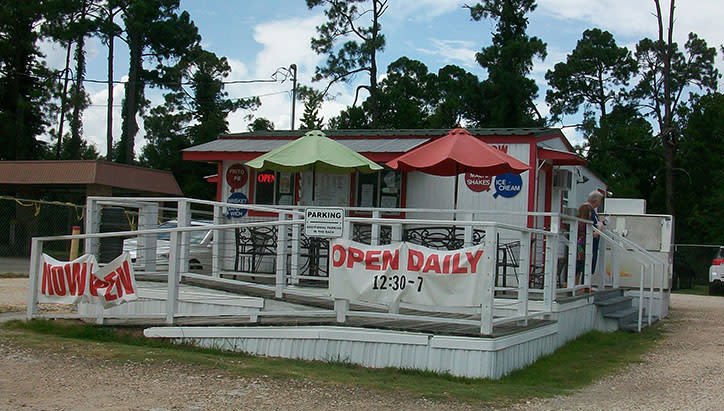 Most snowball stands offer the option to have your snowball "stuffed" with ice cream. They also offer "cream" drizzled on top. I assumed it was something like coffee cream, but I wasn't sure. So I asked the girls working at Mr. Snow. They told me "cream" is specially made from condensed milk, evaporated milk, and added sugar. As if those flavored syrups aren't sweet enough already. I have not yet tried this cream option. Instead, I ordered a simple cream soda flavored snow cone.
Over on Nelson Rd. near Country Club Rd., you'll find Fox's Snow Cones (in the parking lot of Fox's Pizza). Instead of soft serve ice cream, they offer hard pack in either vanilla or Neapolitan. Their syrup flavor list is much shorter than the other snow cone stands I visited, which actually makes it easier to choose. I ordered their kiwi flavor. I try to order a different flavor or flavor combo at each location. Just to mix it up.
Allow me to caution you on the green colors . . .  unless you're going for that ghoulish goth look on your lips and tongue.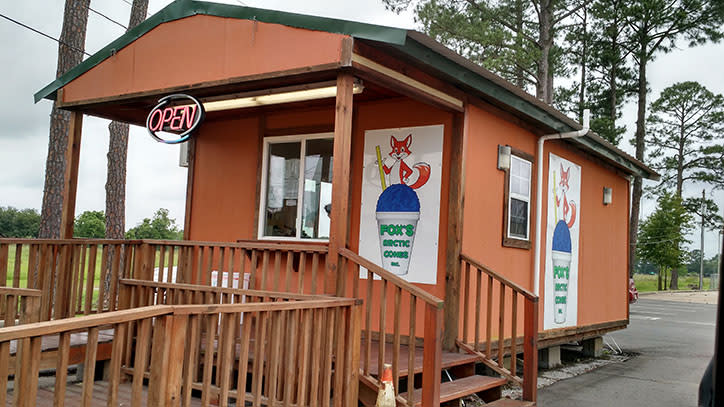 In Sulphur, there's Famous New Orleans Sno-Balls on Maplewood Dr. that's been in business over 38 years.  Their soft, fluffy ice and vibrant flavors are a treat!  KPLC-TV even featured them on Louisiana Traveler! 

And my favorite snowball stand is Famous New Orleans Style Snowballs in Moss Bluff. It's my favorite for one reason . . . because it's the only stand I found that has chocolate soft serve! I love chocolate soft serve.
Once, I tried a snowball here with both mint and chocolate flavors stuffed with chocolate ice cream. Indeed, it was good, but the color combination was a tad unappetizing. Think mud. On another visit, I had a coconut snowball stuffed with chocolate. I was thinking Mounds candy bar. I liked it!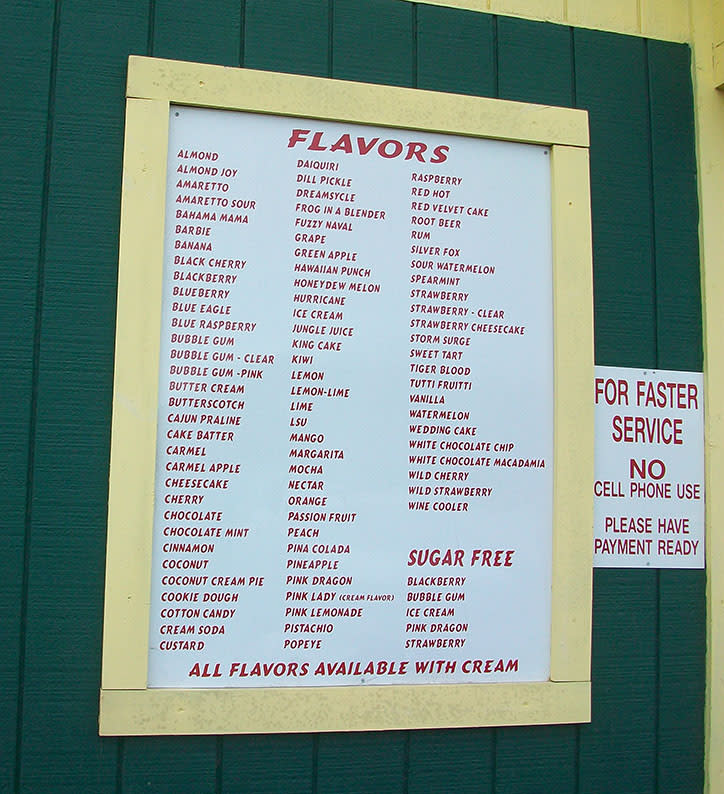 The temperatures are heating up and it's a perfect time to cool off at one of the many snowball stands in southwest Louisiana. Where is your favorite snow ball stand?