Cooling colors of sky blue, white and matte gold greeted me upon entry at The James 710. It felt fresh and modern. I really didn't know what to expect from The James 710 beyond the fact that I had heard it through the social grapevine that it was elegant and delightful. The restaurant is owned and operated by the Ben Herrera, who also owns 121 Artisan Bistro and Restaurant Calla – both stellar in my book! I noticed little honeycomb shaped light fixtures near the front entrance and was instantly greeted by a friendly hostess with a smile ear-to-ear. I was thrilled to have an interview with Ben to understand the vision behind his newest restaurant on the Lake Charles scene.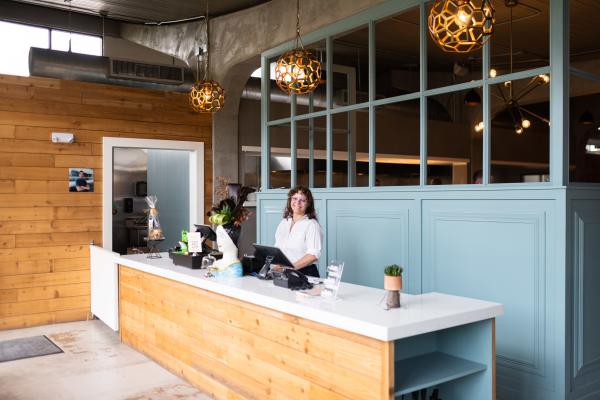 One of the things that Ben explained whenever I asked about the atmosphere and basic experience that he was trying to create is that he wanted everyone to have a "complete dining experience." What he meant by that is that all the details work together in concert to have a wholistic approach to the impression that is made – from the moment you walk in the door. For me, that feeling was - fresh. There is something complete about the ambiance. The chairs have a soft feel to them; the napkins are cloth; the flatware, plates, cups have a modern design; the staff are informed and passionate about what's on the menu – everything works together.

I looked up, and out of the corner of my eye, the honeycomb shaped light fixtures made sense. Like honeybees working together to create something intricate and beautiful. Even the menu was an inspired collaboration of the talented staff with Chef Michael Breese, Renda Ruiz and the late Wesley Miller. Not to mention, the other-worldly cocktails were created by Blakelee Kibodeaux. (I can only imagine the innovative process that they went through to realize their concepts!)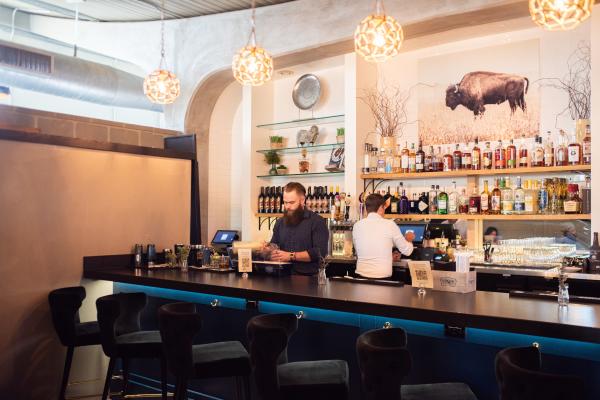 The James 710 is named after Ben's grandfather, with the 710 being the address of the building - 710 Dr. Michael DeBakey Drive. Ben was close to his grandfather and learned so much growing up with his grandparents who owned a restaurant in Boulder. He said that his grandfather was near and dear to his heart and had a tremendous impact on him during the time that he was pursuing his culinary degree program, first 2 years of studying nutrition at Colorado State University, finishing up with the culinary program at the Emily Griffith Technical College in Denver. There are actually some images of his grandfather hanging in the restaurant – including one of him holding up a bobcat! How epic!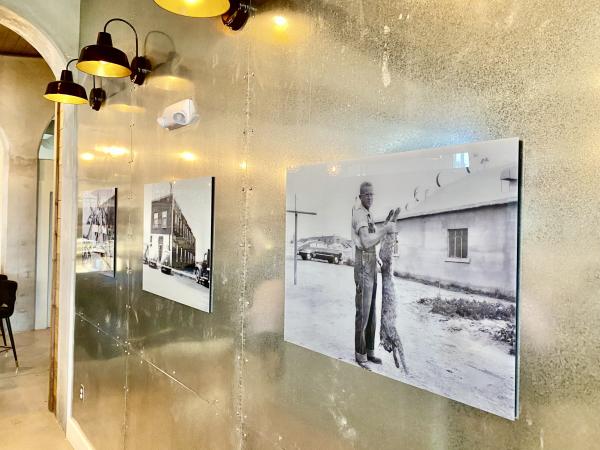 Ben said that the restaurant fills the void that exists between places that provide healthy choices or indulgent selections. Basically, if you want avocado toast – you normally go to a health food place, or if you want a sizzling steak – you go to a steakhouse. At The James 710, you can get both kinds of orders - both made with intention. The healthy choices have just as much flavor, creativity and colorful appeal as the heartier choices on the menu. Plus, many of the dishes are available gluten free. 
To put the right touches on the ingredients, Ben sources locally as much as possible. He mentioned that he works with Green Girl who grows micro greens like herbs, pea shoots, sprouts and radishes – the kinds of special species and finishing touches that can make a difference for a boutique restaurant. This kind of sourcing allows for more seasonal menu changes and fresh flavors that are found in the local market. Additionally, he uses breads made by Helen St. Bakehouse – Lake Charles' first artisan bakery, J.T.'s Seafood, and Freshko Produce. So, who's hungry?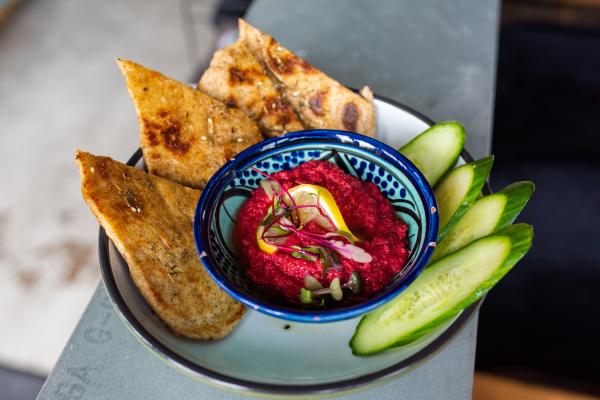 I recommend the Beetroot Hummus for starters. I always say that "hummus is yummus," but in this case – wow. The flavorful hummus with the "beet" red color, coupled with cucumber slices and house-made naan, perfectly crisp and warm - a tantalizing combination. FYI - You can add brisket debris to this dish for a pinch of protein!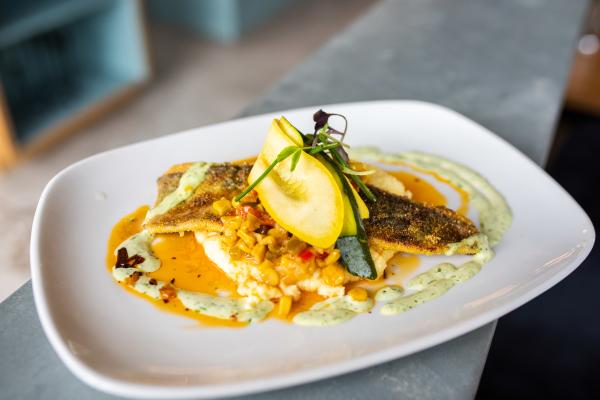 Another selection on the menu is the Fresh Fish which was served pan seared, and it was a cornmeal crusted wild Idaho Rainbow Trout served with cream polenta, corn maque choux with green goddess and chili oil.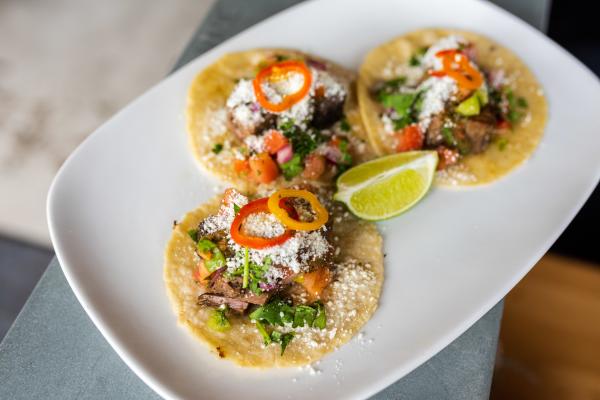 For more of a turf selection, you can try the Brisket Tacos with house-made tortillas, fresh salsa, pico de gallo, cotija cheese, cilantro and lime. I loved the colorful combination of ingredients presented in an artistic way. It's no ordinary taco, people! Pro tip: Use a fork!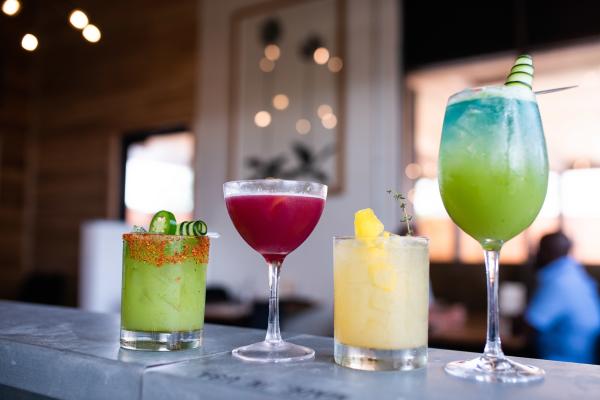 The menu is 4 pages long, and 3 of those pages are dedicated to wine, cocktails and spirits! So, I imagine that all James 710 fans were elated whenever the restaurant expanded hours to include dinner. Let me tell you, the amount of detail that went into the drink presentation is evident, and it's this kind of artistry that makes for a memorable meal and full experience. I recommend that everyone at the table order something slightly different so that the full spectrum of colors can be appreciated!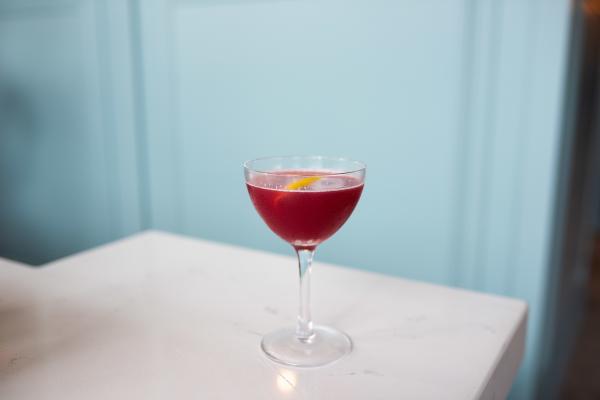 The red cocktail pictured above is the Just Peachy which is a lemon vodka & pomegranate drink.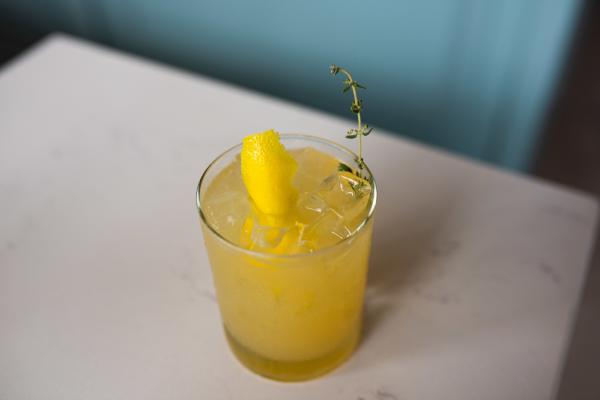 Feast your eyes on the The James-on-Thyme, made with Jameson, elderflower liqueur, thyme simple syrup and lemon juice.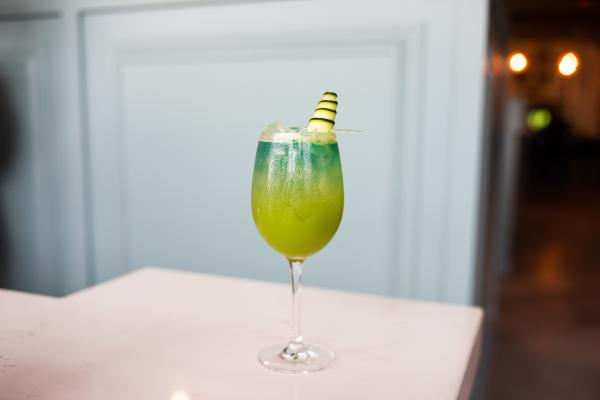 For a fresh, light drink, try the Cucumber Spritz!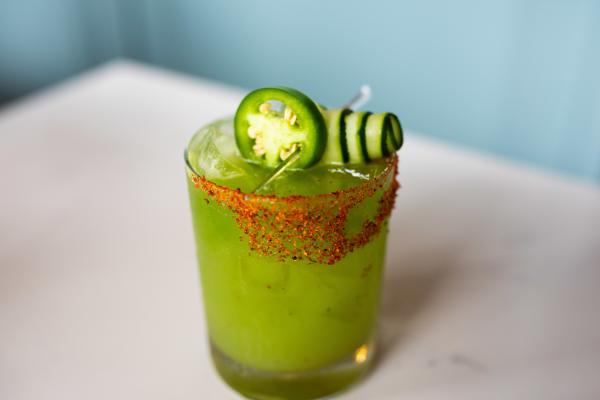 Or, for a cucumber drink with a margarita kick, enjoy the Spicy Cucumber Margarita.
Plans for the future involve completion of a patio area for live music this summer, and sometime later this fall, expanding to include Mondays and Saturday brunches! So, for a fresh dining experience with a multitude of well thought-out menu selections, I encourage you to make your way over to The James 710 for lunch, dinner or cocktails! In the meantime, check out their menu, so you can drool. :-) Additionally, check out Restaurant Calla, 121 Artisan Bistro or a wide variety of places to eat in Southwest Louisiana!

For the latest updates and hours of operation, follow The James 710 on Facebook! 
Photos by Kathryn Shea Duncan, Visit Lake Charles