Luxury, Southern Hospitality, and Comfort await you at Della Belle Bed and Breakfast.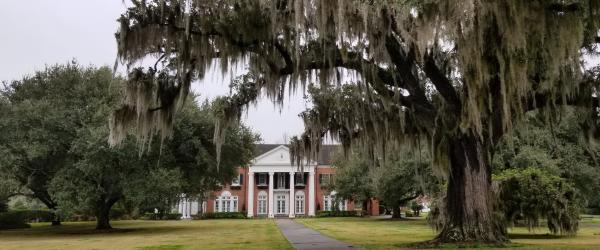 From the moment you enter Della Belle, you become quickly aware that you are in for a unique and authentic encounter with true southern elegance and charm. Owner and operator, Mrs. Kathryn Hoffpauir (Learn More about the Owner and Staff) recently invited me to tour the iconic home and now invites you to share the comfort, class, and grandeur of this Lake Charles treasure. 
A Glimpse Inside
Though my photos cannot possibly capture the feeling that envelopes you at Della Belle, my hope is that they will give you a taste of what you can expect. During my recent visit, Kathryn graciously shared the home with me and led me on an unforgettable tour. I was captivated by the personality of each room. The furniture and decor come together beautifully to create an inviting atmosphere that truly draws you in. Whether enjoying a conversation and perhaps a cocktail in the Grand Parlor or cozying up with one of the classic leather-bound books that can be found in the Tea Room, every detail imaginable has been thought of to make sure that your experience is perfect.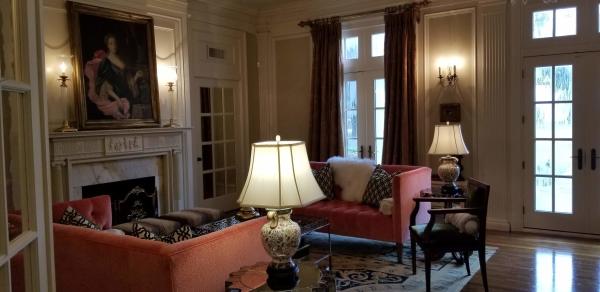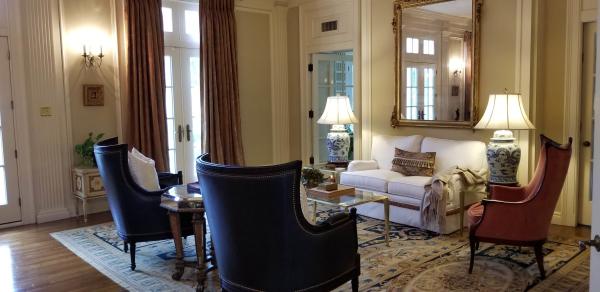 There are two separate seating areas for guests to enjoy in the main parlor. The warm lighting and comfortable seating create the perfect place to wind down after the day has passed.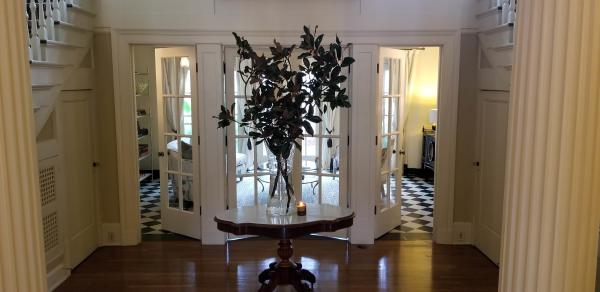 Now take a peek into "The Tea Room" which is nestled beneath the grand stairway.


Imagine yourself passing the time as you enjoy a quiet afternoon. Whether you want to enjoy your favorite chilled Chardonnay or sip a perfectly steeped tea, either make the perfect companion to this comfortable space.  
Pool 🎱 or Pool 🏊?
Another wonderful wing of the home provides for luxury entertainment right at your fingertips. You can begin in the billiard room, which allows you to step into an era of sophistication and leisure. As you enjoy the fireplace, original to the home, you can play a game of pool or choose from other games that have been placed in the room for guests. You can then take a step into the bar, originally designed as a way to connect the house to the swimming pool area. The bar was created from a pharmacy window found in Paris and transformed into the space you see below.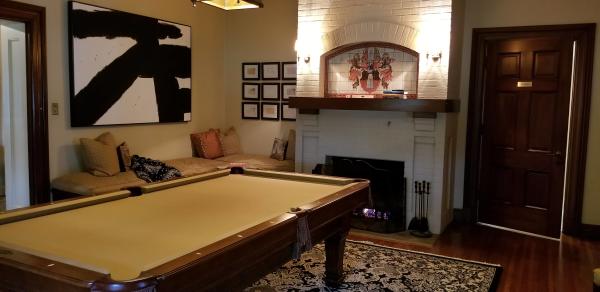 Can you picture yourself curled up by the fireplace or enjoying a game of pool?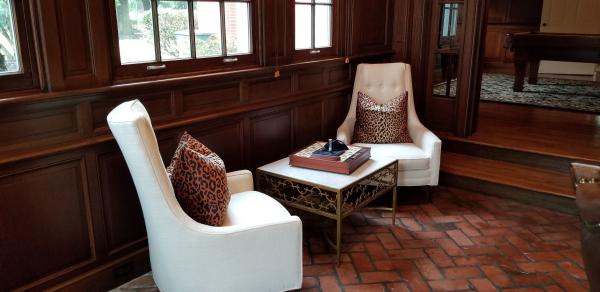 As you can see, there are plenty of spaces that have been created to enjoy a quiet conversation or even some time alone.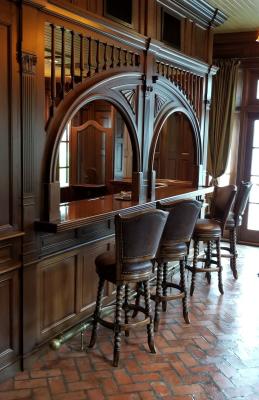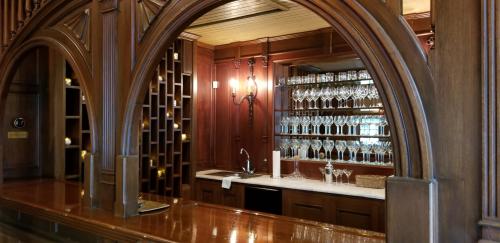 This beautifully designed bar area, created from the woodwork that traveled from the Paris pharmacy years ago makes the perfect space to enjoy your favorite beverage and visit the night away.

Just beside the bar area, you enter a sanctuary that includes a covered pool and spa as well as more areas of seating to enjoy and relax.
Let me Take you to Your Quarters
There are four masterfully designed suites available for reservation in the Main House. There is also a carriage house built above the carport that can also be reserved. Each is uniquely and mindfully decorated and makes the perfect accommodations. Whether you are celebrating a milestone wedding anniversary, a girls' weekend, a family reunion, wedding day, or just a weekend retreat, Della Belle holds the perfect room for your occasion.
---
The Krause Suite
Named after the family that built the home, this was originally the Master Bedroom. It boasts large closets and a beautiful sitting area by another very detailed and ornate fireplace. You will find all of the modern comforts as well like the flat-screen TV you see pictured below.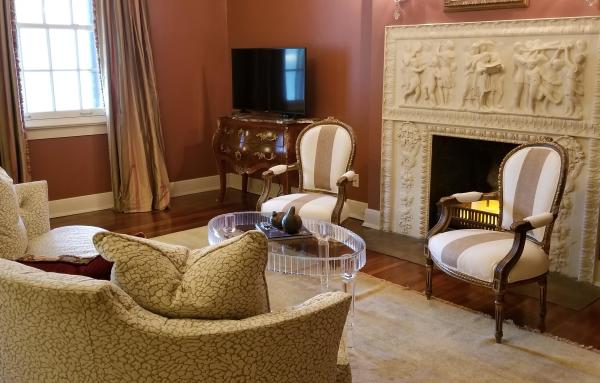 ---
"Le Jardin Suite" or "The Garden Suite"
This has become a quick favorite of guests to Della Belle because of it's dreamy views of the garden and whimsical and classic conversation area.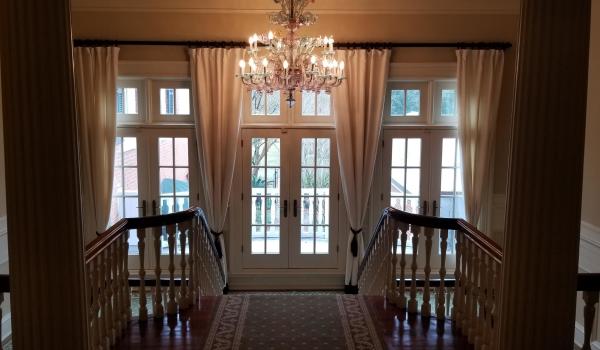 Here is a beautiful view of the grand stairway as you are led to "Le Jardin Suite"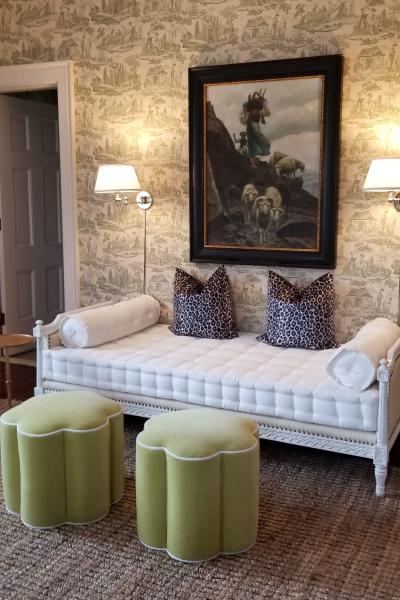 ---
The Parlor Suite
There are three separate entrances to the massive "Parlor Suite" that not only has its own private parlor but two separate bedrooms. This is the perfect suite for guests planning a family getaway, girls' weekend, or group retreat.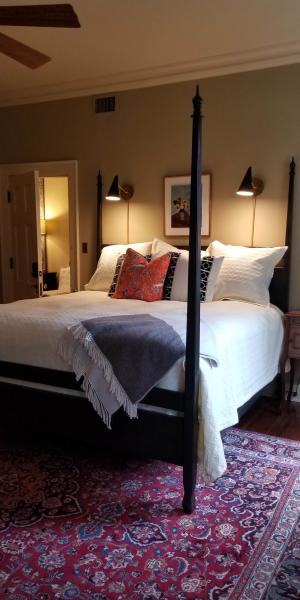 Pictured above is the stately Master bedroom of the Parlor suite.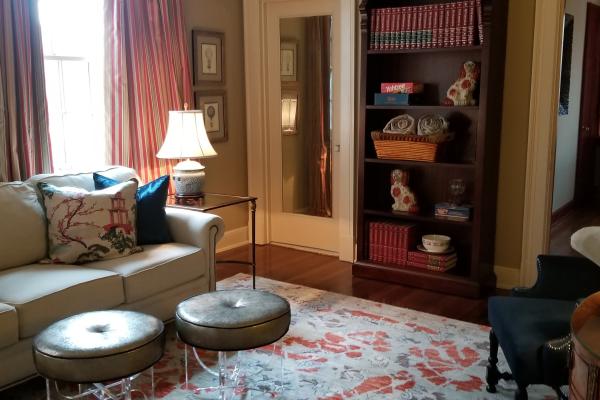 Below is the private parlor that provides a wonderful space for the entire party to enjoy.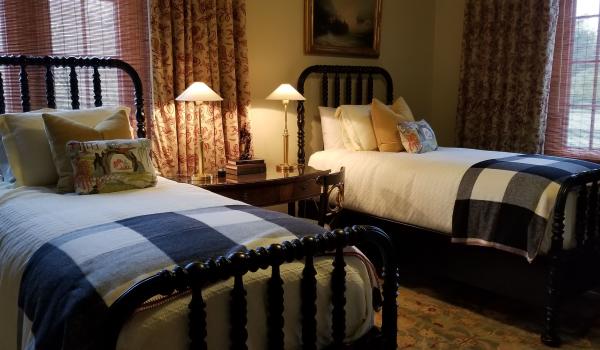 There are two extended length twins in the secondary room. The elongated design allows for comfortable sleeping for children and adults alike.
---
The Burton Suite
The last of the Suites in the Main House was an area of the home that originally included two bedrooms and has been redesigned to create one large and very luxurious suite.

From the chandelier dripping in crystals to the elegant decor, you will feel like true Southern royalty as you settle into your suite.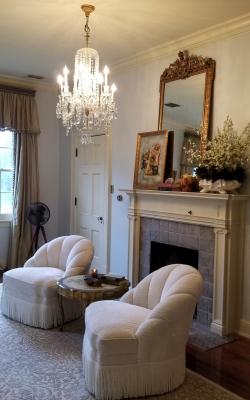 I will leave the master bathroom to your imagination but trust me when I tell you it will be a wonderful surprise to see, with its massive space and soaking tub.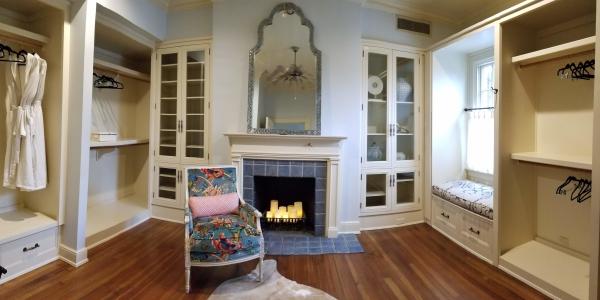 I must share with you the panoramic I took of the large dressing room (with fireplace) in The Burton Suite, which would make the perfect place to ready a bride on her very special day.
And Finally, Fine Dining 
Allow me to show you to the dining areas. Here you will enjoy delicious breakfast from The Bekery, as previously mentioned. Specialty quiche, pastries, and more are a true delight. When you are planning a large and elegant meal, the formal dining room can accommodate your entire party.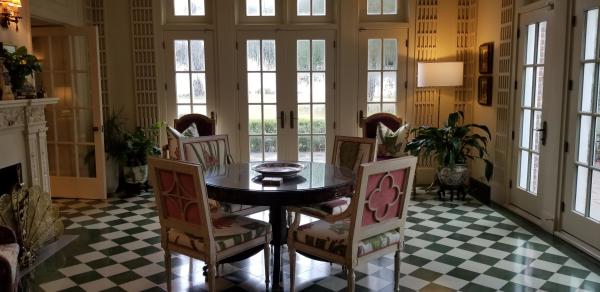 Seen above is one of two breakfast areas. You may be asking yourself by now, "Is there a fireplace in every room?!" Delightful, isn't it?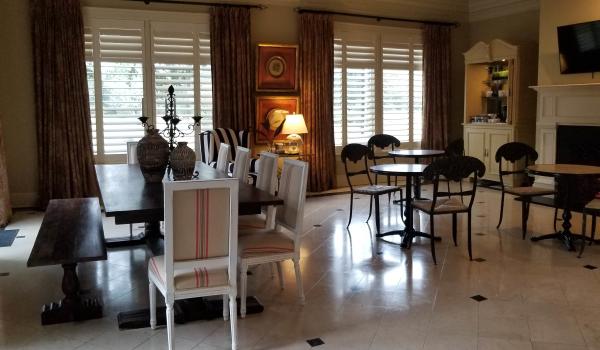 The large informal breakfast room where you can catch up on the news or sit and sip coffee at your leisure. For the true coffee lover, there is a bar set up and accessible 24 hours a day. Yes, they have thought of everything.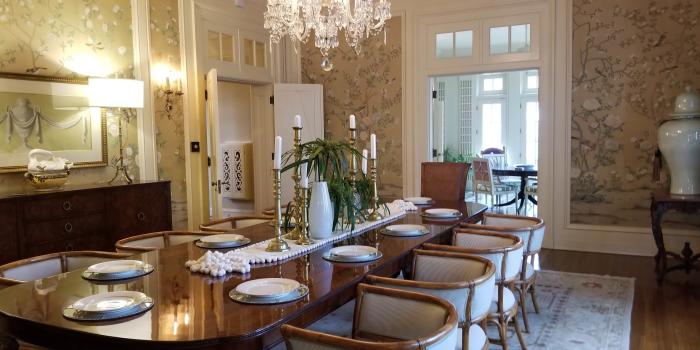 Here you can see the elegant design of the formal dining room, which is perfect for very special occasions and for larger parties which also has a beautiful fireplace to set the mood. 
Uniquely Tailored Experience
When you meet with Kathryn to plan your stay, you will be given the opportunity to customize your time there to be exactly what you have dreamed of. You may want breakfast at 6 a.m. or 10 a.m. Whichever the case, you will be accommodated accordingly. You may want a secluded and private stay, you may want a picnic lunch or perhaps even champagne on the lawn. All of these things and more await you at Della Belle. Drew and Kathryn Hoffpauir's personal leisure travels have given them wonderful experiences that they now seek to infuse into the stay of their guests at Della Belle. Kathryn has given great attention to details that will make your stay luxurious and comfortable. Each room has been placed with the finest bedding and the best bath products. Other amenities such as noise-canceling and conveniently placed charging ports make it apparent that they have gone above and beyond and will leave you wanting more. Kathryn expressed,
We are available as much or as little as a guest would like.  We want this to feel like home and want every visitor's experience to be perfect. 
Be Our Guest
Drew and Kathryn Hoffpauir are excited to welcome you to experience the charm, elegance, comfort, and hospitality of the Della Belle Bed and Breakfast. They are only a phone call away at 337-513-7807 and ready to customize an unforgettable and one of a kind experience for you. You may also visit the Della Belle website to make reservations or get more information at www.thedellabelle.com. I thoroughly enjoyed the warm reception I received, and I know that you are sure to have a five star and unique stay at what can only be described as an iconic piece of Lake Charles history.
It's All About the People
Meet Drew and Kathryn Hoffpauir
Allow me to introduce you to Drew and Kathryn Hoffpauir. Mrs. Hoffpauir, a Lake Charles native, shared with me that they have been married for thirty years and have three children. They have made a beautiful life in Lake Charles and have been residents on Shell Beach Drive for the last eight years. When their Della Belle neighbors decided to sell the home, which has been standing since 1925, they began envisioning how they could be a part of preserving and protecting this iconic piece of Southwest Louisiana history. Drew has a passion for restoring old homes and Kathryn has a gift and love for entertaining family and friends. And so it came to be that they would purchase the home in hopes of opening the doors to welcome guests and carry on a legacy of the great things that the South has to offer...comfort, luxury, and hospitality beyond expectation.
The Dream Team
As I mentioned, the Hoffpauirs have three children, and they have all come together to form what Kathryn describes as "The Dream Team". To create the vision of Della Belle, the Hoffpauirs desired every room to reflect and provide an experience of sophistication and authenticity, blending the rich history of Louisiana and the modern fun and flare that draws people to the region. It goes without saying that the cuisine that guests would experience at Della Belle would be equally important. Another priority of Kathryn's was to be fully present on the grounds of the Bed and Breakfast and to be available to the guests throughout their stay.
This is where the Hoffpauir children come in. With the help and talent of their son Drew Jr. and his business partner Lance, each room in the home gradually came to life. Drew Jr. and Lance, owners, and operators of Room Service furnished and assisted in the decorating of each room at Della Belle. Room Service is a full-service interior design, furniture, and home decor store located right here in Lake Charles at 131 W. 11th Street.  The Hoffpauir's daughter, Rebecca, provides the delicious breakfast that makes your visit to Della Belle complete. Rebecca is owner and operator of The Bekery, located at 206 W. 11th Street. Finally, their youngest son, Hayden, at only 18 years old has stepped in to help with the daily operations of Hoffpauir Properties, allowing Kathryn to focus more of her attention on making Della Belle everything it is meant to be. Drew Sr. and Kathryn are beyond proud and grateful that their children have each contributed to making the dream of Della Belle a reality.